Small bathroom remodel ideas can make even the tiniest space feel airy and open. Your bathroom should be the most relaxing space in your home. Clutter can really mess with a relaxing vibe. It doesn't matter how small your bathroom is – you can always spice things up a bit! Here are a few of our favorite ideas.
Small Bathroom Remodel Ideas That Will Amaze You
Space organization is a tough aesthetic challenge for a small bathroom. Finding the right
storage
can be a problem, and it's not always easy to decorate around.
Want to know if ShelfGenie Can Create the Design You Want?
Schedule
a free, no-obligation design consultation today with one of our custom storage solutions design experts.
In the meantime, we've gathered some of the best small bathroom renovation ideas to take your bathroom to the next level.
1. Keep Your Bathroom Colors Light and Bright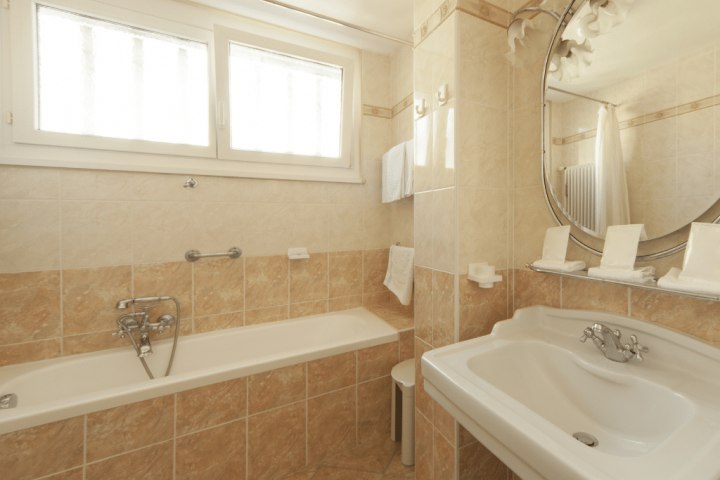 When we think of small bathroom makeover ideas on a budget, it's easy to think that there are extreme limits.
With a little bit of innovation and a dash of creativity, your bathroom can look like the ones you fawn over in magazines.
One of the best ways to give your small bathroom an improved look is to go with light, bright colors.
2. Make the Most of Vertical Storage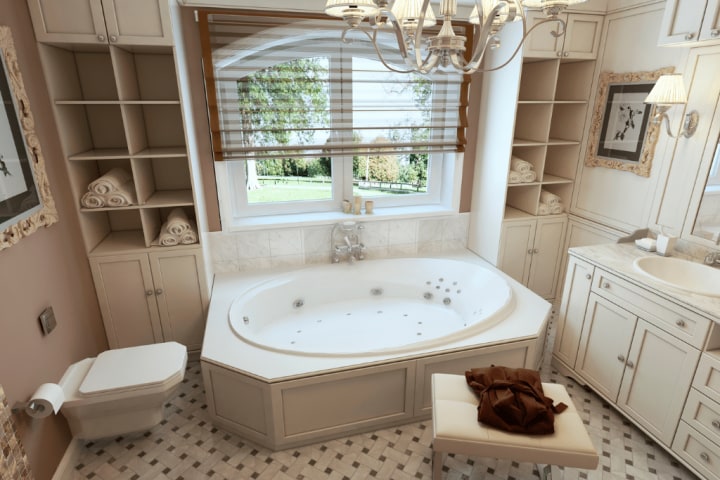 Use all the space in your bathroom to your advantage. If you have vertical storage, optimize it. If not, invest in some vertical cabinets.
They'll draw the eye upward, improve the overall feel of your bathroom, and help you save on space.
3. Go on the Hunt for Space-Savers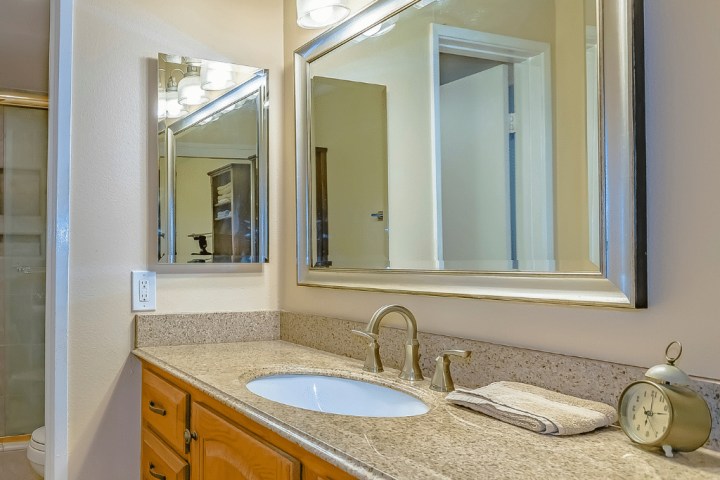 If you use every square inch of space in your bathroom, it's going to look cluttered and overwhelming. Instead, opt for space-saving solutions where items are out of sight.
Cabinets with multiple drawers are a great idea, as they blend storage space with countertop space.
4. Big Mirrors Are Some of the Best Small Bathroom Remodel Ideas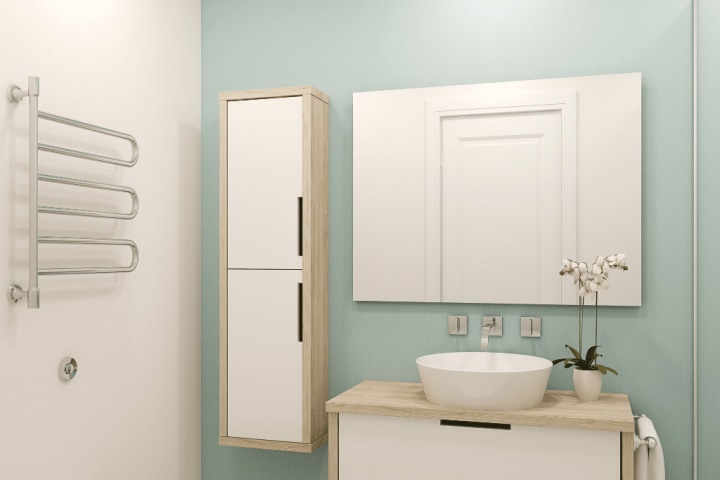 Adding a ceiling-to-floor or wall-to-wall mirror will create the illusion of space. If you can angle a mirror to reflect natural light through a window, even better.
Complement it with a lovely light and flowery wallpaper for a feminine, vintage mood.
5. Good Lighting Makes a World of Difference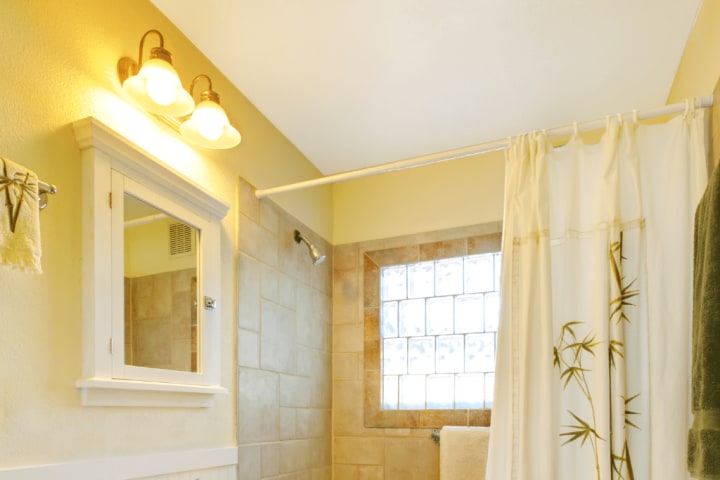 Adding a great light fixture can transform your bathroom, big or small. If you can add extra lights to the sink area, you'll have an even more unique yet highly functional look.
If you want a dramatic ambiance, consider using a colored bulb to envelop your bathroom in color, or a smart bulb that lets you program colors on demand.
6. Create the Illusion of Height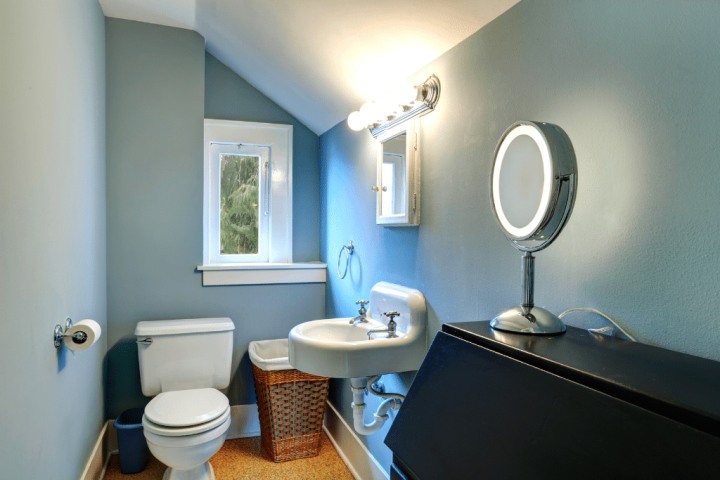 Few things can add a sense of space better than a high ceiling or illusion of height.
Color
is a fantastic way to manipulate the eye. Go with light neutrals, soft creams, and pastels in order to give your bathroom a lift.
For a pop of color, add a bright accessory or plant to one of the corners of the bathroom. Draw the eye upward, if you can. Mirrors are also brilliant for creating a sense of height and space.
7. Floating Shelves Are Multifunctional Assets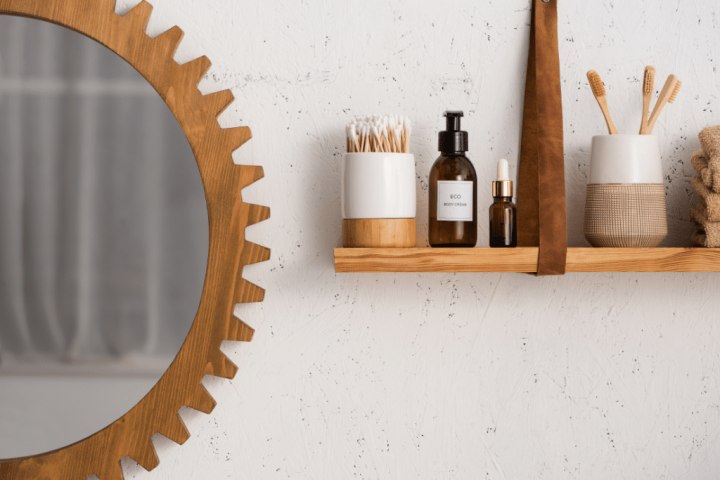 A list of the best small bathroom remodeling ideas cannot be complete without suggesting a floating shelf. Not only are they unique and beautiful, but they are also life-savers when it comes to space.
You can use them to store all your bathroom accessories and to give your bathroom a touch of charm and class.
8. Extend Sink Surfaces for Space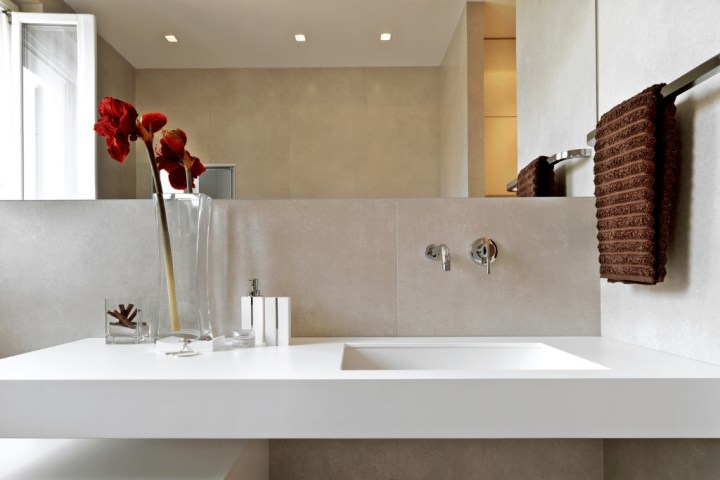 Small bathrooms have one big issue: lack of space. If you extend your sink and countertop, you will have a lot more space.
There are different style ideas for extended countertops, so play around and be creative with how you do it. You can also use the space to add a plant or cute bathroom accessory.
9. Unique Small Bathroom Remodel Ideas: Shower Niches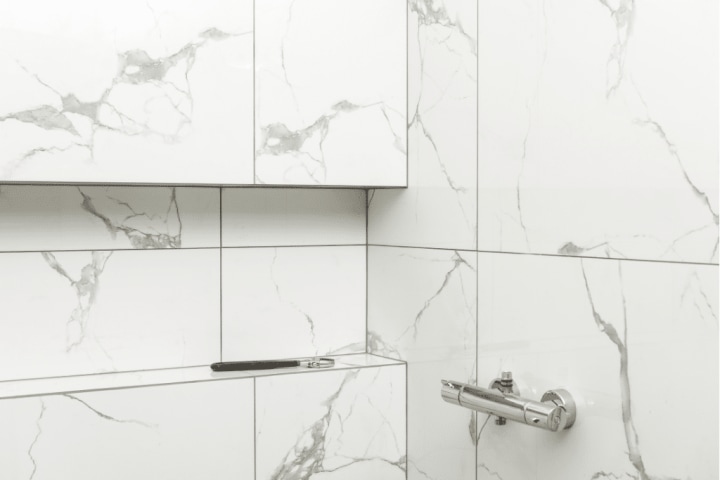 If you want a spacious shower in your bathroom, you'll need another way to store your bathroom accessories.
Shower niches can be beautiful and a brilliant way to use your walls for space. You can even add niches behind your bathtub if you do not have a shower. These niches can be used to hold shampoo, flowers, soaps, sponges, and just about anything else that you can fit.
10. Baskets and Bins for Old-School Charm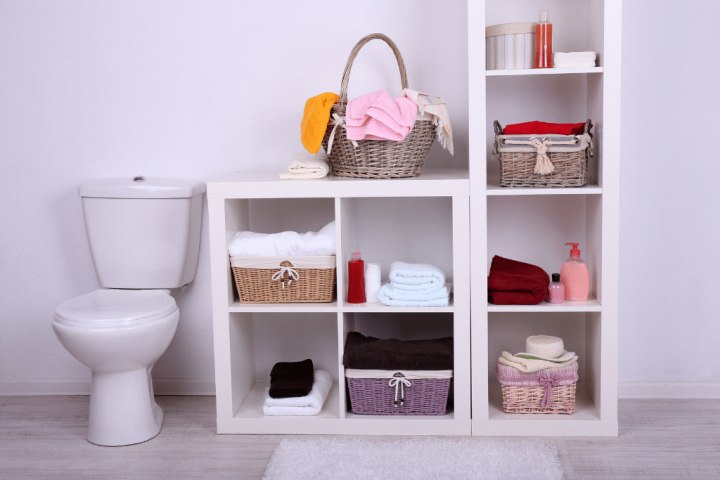 Open shelves are great for saving space in small bathrooms, but they can also be difficult to keep organized. Wicker baskets, bins, and bowls can add some vintage charm to your bathroom. They're also really nice for keeping your space
well-organized
.
You can use bigger baskets for your washing as well. Combining the 'wicker look' with soft background colors will make your bathroom feel more welcoming.
11. Clever Small Bathroom Remodel Idea: Opt for Glass Shower Doors (Or No Doors at All)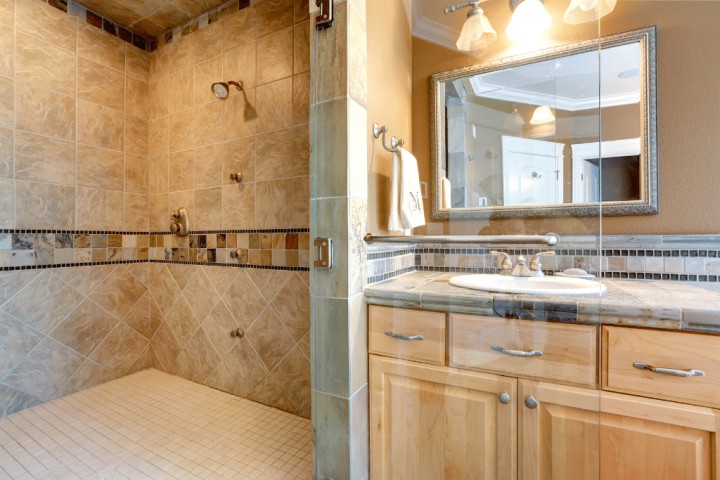 If you need to add a feeling of space to your small bathroom, but have nothing you can take out, use glass shower doors.
Using glass doors for your shower will make the bathroom feel like it's more livable space.
You can even go further and remove the doors altogether.
Have you ever seen open-shower bathrooms? They look and feel elegant, like a modern hotel.
12. Consider Pull-Out Shelving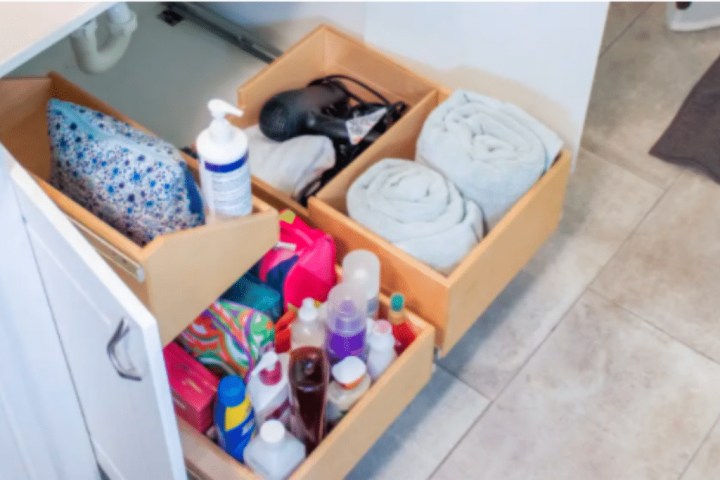 One of the best ways to deal with clutter in your small bathroom is by making the most of custom
pull-out shelves
from ShelfGenie.
These shelves can make your life so much easier, and they can make your bathroom feel like an organized haven.
No more rummaging and fumbling to find your bath salts and hair masques! There are different designs and ideas for pull-out shelving, so you can be as creative as you want.
13. Wall Art: A Small Bathroom Remodel Idea for Our Inner Artists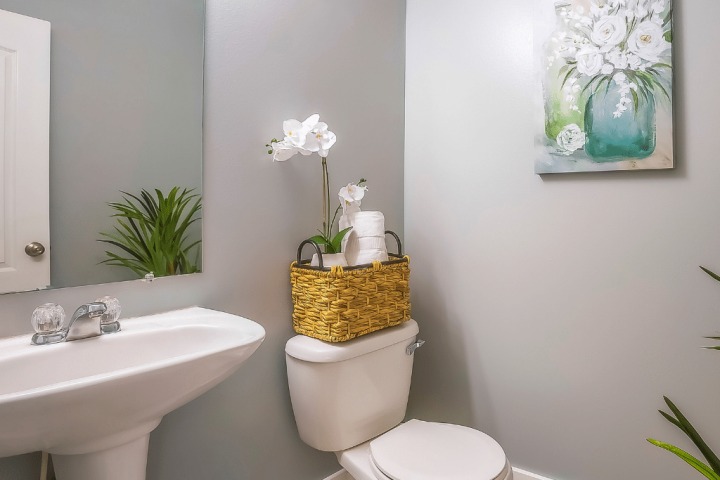 Adding art to your bathroom can take its sophistication and beauty to the next level. Choose the kind of art that you really love, rather than using it to "hide" a piece of art.
Add an exquisite (but waterproof) landscape or portrait to create a retro feel. Or, if you like a modern bathroom, add something eccentric and bright.
You can even use family photos or art pieces you've made yourself.
14. Use Ledges Creatively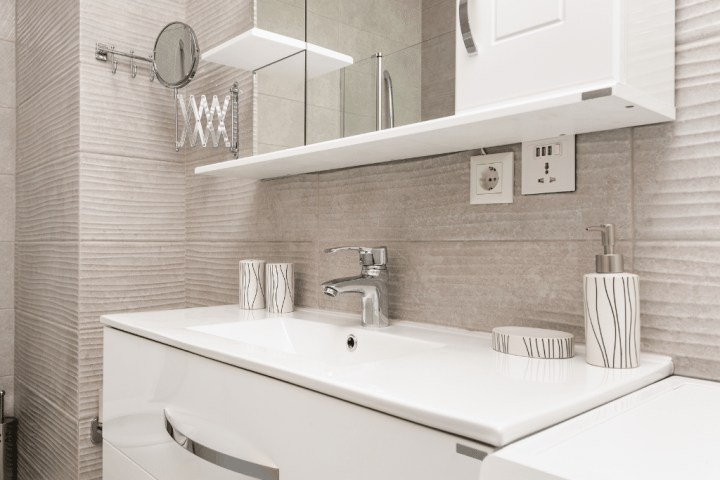 Another great tiny bathroom remodel idea involves the use of ledges. They can be sophisticated, fancy, and lux, or contemporary, modern, and minimalistic.
Add a ledge behind your sink or toilet, add a mirror or artwork, some soft light, and you have a whole new bathroom.
Ledges are also great for storing all the bathroom accessories that you need close at hand.
15. Unique Small Bathroom Remodel Idea: Go With a Sliding or Pocket Door
Open doors can make a small space feel even smaller. That's why a sliding or pocket door will enhance any small bathroom.
These unique doors add more style and elegance to your area without requiring extra space.
People Also Ask:
How to Make My Small Bathroom Look Better
There are many cool small bathroom designs and ideas that will upgrade how your space looks. You can add a backlight to your mirror for a chic and modern appearance. This is great if you do not have room for fancy scones.
If you can, lift your shower curtain. Take it as high as possible – if you can, consider suspending the curtain from the ceiling!
You can also add vintage rugs and patterned towels to add a splash of personality. And colorful flowers always look nice.
How to Replace a Bathtub in a Small Bathroom
Doing a small bathroom remodel with tub replacement can be tricky to do yourself, but not impossible. You need to take accurate measurements and mark plumbing such as drains.
It might be necessary to remove the toilet and sink as well, so prepare for a lot of
hard work
.
You'll have to plan carefully; it's highly recommended you use a professional to help.
Can Small Bathrooms Look Luxurious?
You can absolutely make your tiny bathroom luxurious, and there are countless small bathroom remodel ideas for this purpose.
If you hook and hang your towels, bottles, cosmetics, and other accessories, you are already off to a good start.
Use space-saving vanity units and rails, too. Adding a bit of silver or gray can really improve how luxurious a bathroom feels. Deep purple and wine red are good colors for this as well.
Can I Use Wallpaper in a Bathroom?
Special wallpaper types are made for bathrooms. Just make sure that the wallpaper you choose is labeled as suitable for bathrooms.
They are usually splash-proof and made to handle humidity.
Want to know if ShelfGenie Can Create the Design You Want?
Schedule
a free, no-obligation design consultation today, or fill out the form below to have a ShelfGenie expert designer contact you.