Tool storage ideas are essential for those that keep a lot of tools in the garage or have a designated workspace. Figuring out how to effectively store your tools while keeping them organized can be challenging, primarily when you have obtained a large collection. If you have spent a long time searching for space-saving ideas that will keep your tools organized, this list is for you!
The Best Tool Storage Organization Ideas
Tool storage organization ideas can be difficult to pull off, especially if your tools are already a mess. Most of these storage plans are do-it-yourself, but you can work with a professional to redesign your tool space and create custom storage just for you.
Utilize a Closet Rack
Photo by Hardware Resources.
If you have a lot of wrenches or handheld tools, which you probably do, you will find that utilizing a closet rack that is meant for ties and belts will work wonderfully for storing these. Not only can they hang neatly, but you will be able to find exactly what you need without rifling through a bin full of wrenches.
You can find many tie and belt rack options at discount and hardware stores. They are relatively inexpensive, and once screwed safely into the wall, will hold quite a few wrenches and other tools. However, try not to hang anything too heavy from them, because it could cause the hooks to bend.
Create a Pegboard
A pegboard tool holder is one of the easiest tool organization ideas that you can pull off all on your own. Pegboards and the different hook options to go on them can be found at your local hardware store. If you are in search of original and convenient baskets and hooks to hang from your DIY pegboard, you can try Amazon or even Etsy to see what is available.
The best part of a pegboard is how customizable you can make it. It can be large or small or take up an entire wall. You could paint it or leave it blank, and tailor it to fit the tools you currently have in your possession.
Build a PVC Pipe Tool Rack
With just a few items from the hardware store, you can build the perfect rack to keep your beloved tools organized. You will need a few tools to get the job done, such as a jigsaw, hacksaw, and drill. There are plenty of tutorials available on the internet regarding the process of building a PVC pipe tool rack and the materials are readily available and super affordable!
Custom Cabinets and Shelving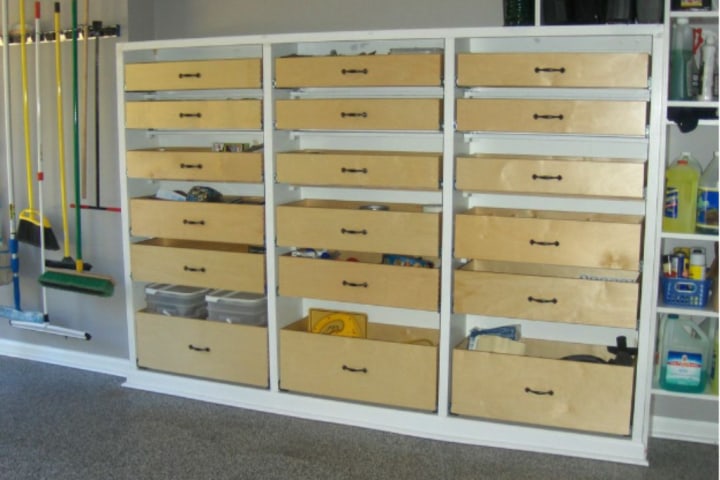 Custom-built tool cabinets have a way of taking your workspace to a whole new level. They look uniform and amazing, and they will cover up any mess that lurks inside, such as when you are in the middle of a big project and have not had time to clean up.
You can have tool cabinets made to fit any size garage. You get to decide if you want them to go from the floor to ceiling, which is a popular choice, or if you'd like top or bottom rows only. Your designer will give you the option to choose a color, and most installations are quick and easy, depending on the shape and location of the space.
If enclosed storage isn't your thing, you might want to think about custom shelving units. Built-in shelving is fantastic in a workspace, because it keeps the floor plan open, leaving plenty of room for projects or additional storage. Your custom shelving can look however you would like, but working with a design team will give your great ideas concerning the direction you want to take. They will also open your mind to concepts you did not think possible.
Cleaning up your garage or workspace with custom shelving brings an organized, professional feel to the space while still keeping it open. Of course, it can be a bit harder to maintain organization on open shelving because there are not any doors to close. With that being said, it will encourage you to keep your tools just as you did when you first organized them!
PVC Pipe Holsters
One internet search of PVC pipe tool holsters will provide you with the details on how to create this incredible DIY storage tool. PVC holsters are a cheap and easy storage option that can organize everything from caulking guns to drills. You can install the pipes on the side of your cabinets or workbench, making sure that they are secured in a spot where you can easily reach them.
In many cases, those that need a workspace facelift will combine upgrade methods such as custom cabinets with DIY PVC holsters. It is a great way to get the best of both worlds!
Floating Shelving
When upgrading a space with storage in mind, many people opt for floating shelves. Floating shelves look amazing, and they are installed out of the way, giving you both plenty of room to work and access to your tools. Floating shelves can store everything from small toolboxes to chainsaws.
If you have your floating shelves custom-made, your designer can tailor them to fit the tools you want to put on them. For example, if chainsaws are something you want to store up high (which is always a good idea in general) you can have the designer cut a slit in the shelf that will allow you to store the chainsaw safely face down and up high.
Work Table Storage
When it comes to tool storage solutions, you will want to consider utilizing the space you already have. For example, if you have got a long workbench, you are probably not using the space underneath it. You can create storage under the worktable by placing cube storage or another form of shelving underneath.
Storing tools under the worktable gives you access to them as needed. Assigning specific tools to each cube or shelf and labeling them will ensure that you are even more organized, helping you to avoid losing the tools you need when working on a large project.
Gliding Drawers
If you prefer to lay your tools flat, gliding drawers are a great choice for you. Sliding easily in and out of an existing or custom-made workbench, gliding drawers tuck out of the way until you need them. They allow you to lay your tools out to access them quickly.
Gliding drawers are a super option for those that really want to get organized but do not want to make too many major changes.
Tool Storage Solutions with ShelfGenie
If you have had enough of the clutter in your workspace, it is time to invest in some tool storage ideas that really work. ShelfGenie is happy to help you figure out a design plan that works for you, whether you would like custom shelving or beautiful new cabinets.
Your workspace should feel like home, and we are here to make it happen. Schedule an appointment now for your free consultation!