What material are your bathroom cabinets made from? Ideally, bathroom cabinets should be made from materials that are waterproof, anti-rot, durable, and designed in a way that provides you with enough storage. Depending on the size of your bathroom, its ventilation, and the humidity levels where you live, moisture can be a problem for wood bathroom cabinets (and other bathroom surfaces). Wood bathroom cabinets can develop mold or swell if they are not waterproof. Waterproofing wood cabinets can prevent water damage from leaks, spills, and other moisture.
What Are Most Bathroom Cabinets Made From?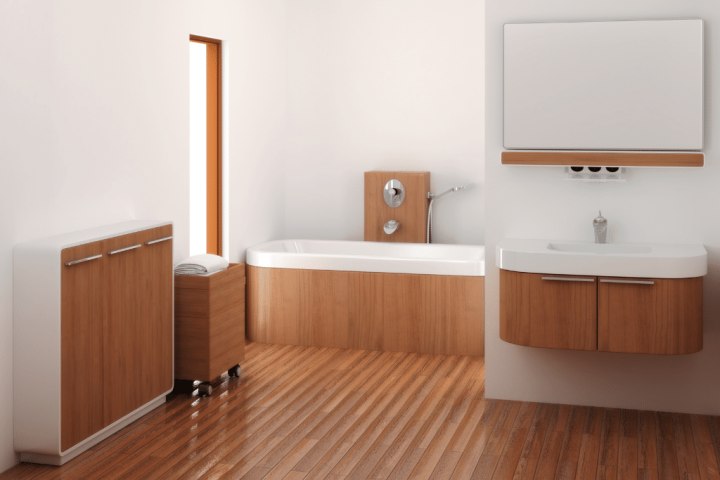 Most bathroom cabinets have a laminate finish that is waterproof and very durable. The surface is nonporous and moisture wipes right off. Wood is more porous and can absorb moisture if it has not been treated. Over time, high levels of moisture in the air and water can cause wood to swell and even rot or become moldy.
Damp, Mold, and Moisture
Damp bathroom surfaces are a great breeding ground for mold spores.
Black mold
is notoriously difficult to get rid of and is a health risk. Bathroom shelving also needs to be waterproof.Steamy showers and baths add to the moisture level in the air in a bathroom, which, due to its smaller space, can lead to water condensing on surfaces. If you're wondering whether your cabinets already have water damage, ask yourself:
Do your cabinet drawers open easily?
Do your doors close easily?
Before you seal and waterproof your wooden bathroom cabinets, you need to check that they have not been damaged by water. While you're at it, determine whether the current cabinets in your bathroom provide enough storage for your needs. There are many
tips
that can give you more space.
How to Waterproof Your Bathroom Cabinets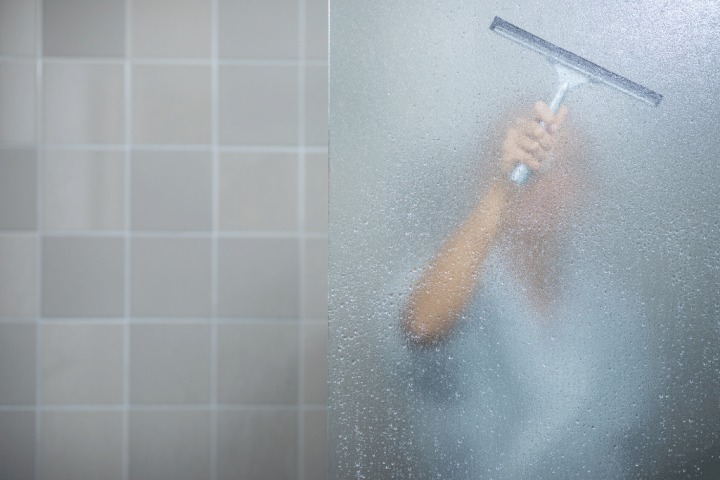 You have a variety of different options to protect your wood cabinets and shelves. It is important to create a seal, but different methods are best suited to different grains of wood:
Hand rubbing with linseed or tung oil
Sealing with polyurethane, varnish, or lacquer
Using a stain-sealant combination
Tools and Materials
Remember that bathrooms tend to be smaller spaces, and any paint, varnish, or sealants you use will release chemicals into the air. Open available windows and carefully read any caution warnings on products. You may wish to remove your bathroom cabinets entirely and work in a bigger, better-ventilated space. Tools you will need:
Linseed oil, mineral spirits, polyurethane (if you wish to make your own oil)
Natural bristle paintbrush
Rags
Fine-grit sandpaper
Polyurethane sealant, wood varnish, lacquer, wood stain
Oil Rub Finish
This suits dark-grained wood like walnut and mahogany. Mixing oils with mineral spirits and polyurethane eliminates the stickiness, and the result dries faster. This traditional method for waterproofing wood has been used for centuries. If the wood in your bathroom cabinets is lighter in color, such as pine or ash, do not use hand-rubbed oils, as they tend to yellow over time.You can buy pre-blended oils or make your own with one part linseed/tung oil, one part mineral spirits, and one part polyurethane.
Caution: Oil Rags Can Spontaneously Ignite
As the oil dries on a rag, it generates heat, which means it can ignite even if the rag is nowhere near a flame. Follow these tips to minimize your risks:
Keep a bucket of water handy.
When your rag becomes saturated with oil, drop it in the bucket and use a new rag.
Hang rags out separately when drying.
Throw away and do not reuse old, oil-soaked rags.
Using Sealants
Sealants are relatively easy to apply and have excellent waterproofing properties. Brush or spray polyurethane, varnish, and lacquer onto clean, sanded wood. After drying, you need to lightly re-sand and recoat.
What is the difference between sealants?
Lacquer creates a very hard, scratch-resistant surface. Polyurethane sealants contain acrylic and polyurethane resins and various other solvents, and you can choose from a high-gloss shine to a gentle, soft sheen. Varnish is made from resin, solvent, and drying oil; it resists scratches and is waterproof. There are different varnishes, but polyurethane varnish is the one you need for waterproofing.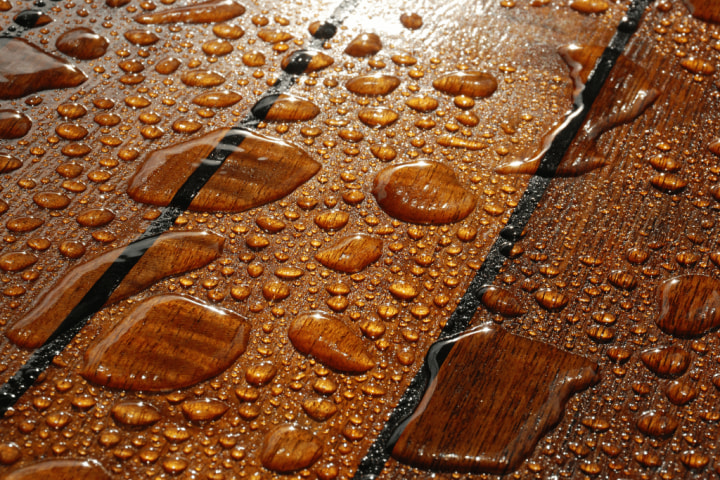 Pro Tips
For the best results, apply sealants and varnishes at room temperature. Typically, sealants dry quickly (some in as little as 15 minutes), but working with any kind of sticky varnish or paint means you must be careful to:
Work only on one side at a time.
Ensure that the sides are dry or carefully place your cabinets in a designated space to dry.
Avoid stirring up the sealant or varnish, because this creates bubbles that remain in the work, even when dry.
When setting up your working area, be safe and use fans for extra ventilation. Waterproofing your bathroom cabinets is essential to maintaining the integrity of the wood as you
update your bathroom
.