If you are thinking of remodelling your kitchen, one of the most important steps is finding the right storage solutions for your kitchen needs. There are many ways to enhance your kitchen by using the right kitchen storage ideas to keep your kitchenware, tools and cooking essentials. Whether it is custom pantry shelving or space-saving ideas, mapping your kitchen can transform the room into your dream living space. It is important to find the right balance between functionality and aesthetic design to create the ideal space.
Finding storage space does not mean you have to remodel the whole kitchen. Often, there are simple ways to incorporate kitchen storage ideas to create a livable environment. Most homeowners today like to focus on clever storage ideas within the home, and the kitchen is no exception. If you're short on kitchen storage ideas, here are some ways to make room.
1) Pull-out spice rack
This is a game changer for any small-sized kitchen to save space and reduce countertop clutter. Store your herbs, spices, and other cooking essentials in a pull-out pantry under the stove for easy quick access. Pull-out drawers are a great way to create a clean design and help with decluttering after a long day of cooking.
2) Stowaway for cleaning tools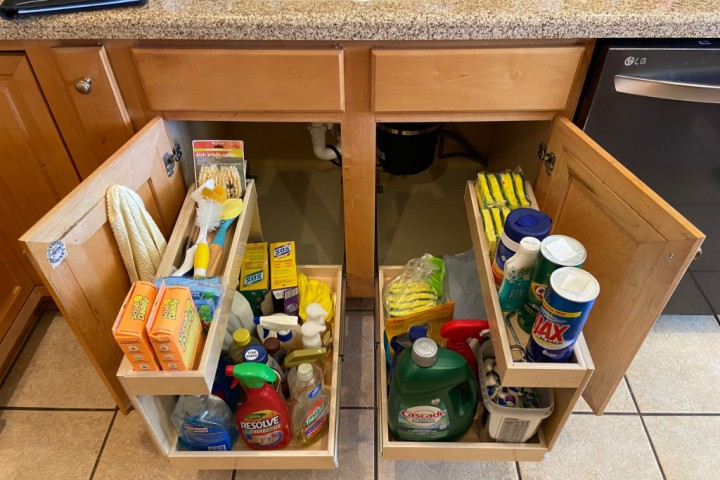 Cleaning tools are not the most pleasant looking, but they are an essential part of any kitchen. Creating a built-in drawer for your detergents and cleaning tools under the sink can help to keep the mess at bay. These units can be custom made to your desired size and fit in order to sufficiently store all your cleaning needs.
3) Utensils drawer
When it comes to clever kitchen storage ideas, the goal is to prevent mess and make things easy to find. How many times have you fumbled for a spoon or knife, only to end up in a jumbled pile of utensils? These vertical drawer slots help to categorize different utensils in neat compartments so you can find them easily.
4) Put your best kitchenware on display
The open shelving trend is popular among modern homes nowadays. They are a common design solution in trendy open-concept restaurants, which is the look that some people are going for in their homes. Not only are they flexible and budget-friendly, but they are also a great way to explore different organization methods. Homeowners can switch up the look of their kitchen just by arranging their shelves – such as by displaying plants or designer cutlery. One tip is to put your less-used kitchenware on the higher shelves, and leave the common kitchen items near you. Open shelves help to maximize space, since they can be built on any wall and even in unusually shaped spaces.
5) High shelves
If you are not a fan of clutter, but still want a way to jump on the open shelving trend, try building a single row of overhead shelves. This way, you get all the benefits of open shelving, such as look, feel and affordability, while still being able to keep the clutter above eye level.
6) Make use of a kitchen island
Kitchen islands are almost a permanent fixture in many home remodels today. Islands transform boring kitchens into a multifunctional space for gatherings and even make for a great work-from-home set up. A way to get the most out of your kitchen island is to have built-in cabinets and drawers. Since they are so huge, that means a massive amount of storage room for all your kitchen needs.
7) Label everything
If you have been looking at organization boards on Pinterest lately, you probably realized that "shelfies" are the new selfie. With everyone confined to their homes for the last year, decluttering and organization is the new favorite home activity. Get a few labelled jars for herbs, spices, dried goods and more, and place them neatly on your shelves for a clean look. This way, you will definitely not find yourself mistaking icing sugar for baking soda.
Despite the open shelving craze, many homeowners still prefer the minimalist aesthetic. There is no surprise here: minimalist homes boast a fresh and elegant appeal. Still, downsizing your kitchen does not mean you have to get rid of essential appliances and cutlery. One way to create a minimalist kitchen without throwing your precious kitchenware away is by building all your cabinets in so that everything is tucked away safely behind a wall. Play around with materials like glass, ceramic and muted color palettes for a sleek appearance.
9) Create built-in appliances
Kettles, ovens and coffee machines can turn into an unsightly pile-up in the kitchen, especially with frequent use. A great kitchen storage idea would be to have everything built-in. Smart kitchens are efficient, user-friendly and streamline cooking and cleaning. With technology, even large appliances like dishwashers, stoves and refrigerators can be seamlessly incorporated into the kitchen. Without bulky appliances in your way, there can be more storage room for other cooking needs.
10) Hang it up
Clever kitchen storage ideas do not have to be expensive or extravagant. Possibly inspired by industrial kitchens in the restaurant industry or by the rustic "old-school" aesthetic, hanging rods are a stunning and space-saving kitchen storage idea for your new home. Hang a rod near the ceilings for large pots and pans, or near the stove for ladles, whisks and other cooking utensils. Hanging rods give kitchens a unique personality by giving it a homely charm usually found in traditional kitchens. To enhance the rustic aesthetic, go for dark metal rods that are easy to maintain and will not break easily.
11) Leave your most-used items out
For the sake of convenience, you do not need to tuck away all your kitchenware. Especially for those who cook everyday, a wiser decision can be to leave pans and skillets and frequently used spices out on the countertop. To avoid this turning into a messy sight, store them in your favorite vases or jars. This storage solution not only maximizes whatever counter space you have, it is also cost-friendly and efficient.
Build your dream kitchen with kitchen storage solutions from ShelfGenie
Whether you are replacing old kitchen furniture or finding new ways to decorate your kitchen, ShelfGenie aims to provide homeowners with the remodeling experience that goes beyond design. Our team is equipped with the relevant expertise to create custom and usable solutions for homeowners and their individual needs, for any room in their home. Come speak to us for a FREE consultation today.