Pantries are the core of a functional kitchen, but many homeowners struggle to remodel or build their pantries in a way that looks beautiful while staying organized. These pantry remodeling ideas may give you the inspiration you need to create the best possible pantry.Whether you are looking for better pantry storage ideas or want to improve the look of your pantry, our list of pantry design ideas is a great place to start.
Remodeling a Pantry Without Intensive Renovation
Pantry remodeling can be a tiresome process. It can also be a disruptive one that can take a long time to complete. Some pantry remodeling projects can even disrupt the use of your kitchen. It certainly makes sense that so many homeowners are looking for pantry renovation ideas that are simple and non-intrusive. Luckily, there are plenty of pantry design ideas and options out there that do not involve heavy renovation or building.
1. Slide-Out Drawers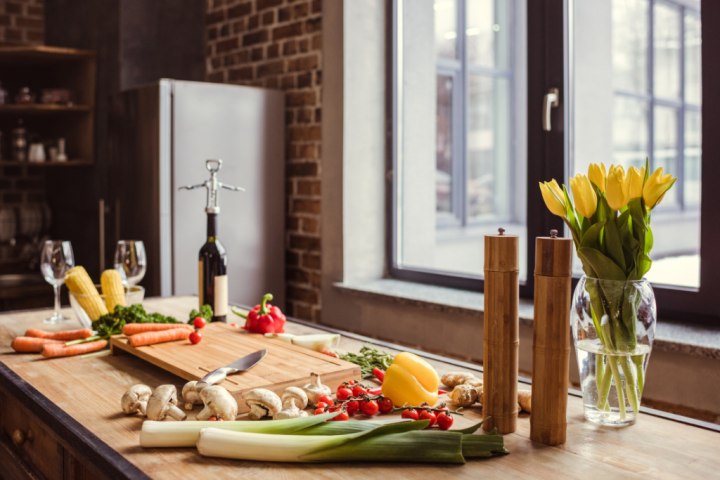 One of the biggest trends in
pantry design ideas
right now has to be slide-out drawers. Slide-out drawers are an excellent design element that can conceal your pantry items while keeping everything organized. Slide-out drawers with concealed handles offer an even more seamless look.
2. A Coffee Station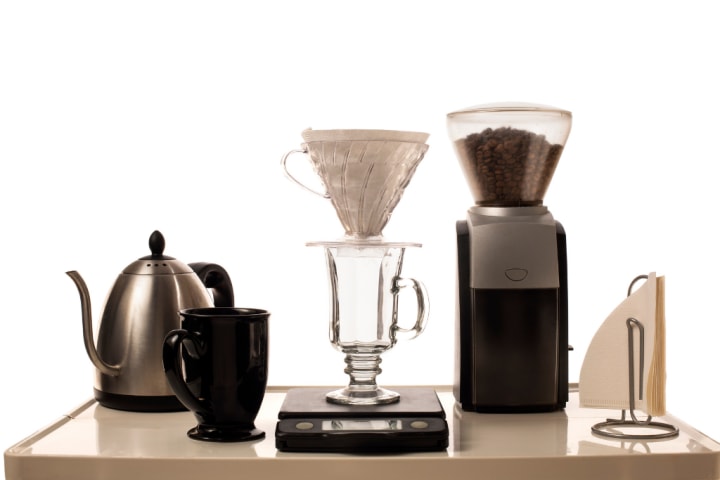 Most U.S. and Canadian households enjoy coffee in the morning; however, keeping your coffee machine and fixings out in the open on your counter can add clutter to your kitchen. One great solution to this problem is to incorporate your coffee station into your pantry. Putting your coffee station in your newly remodeled pantry will keep it out of sight while also making it easy to access.
3. Glass Containers
Not interested in any heavy remodeling for your pantry? You can organize and spruce up your pantry space by using glass containers. Repackage goods such as spices, cereals, granola, flour, and more to instantly get more out of your pantry. Try using large Mason jars or other airtight glass containers that fit your aesthetic.
4. Bread Bins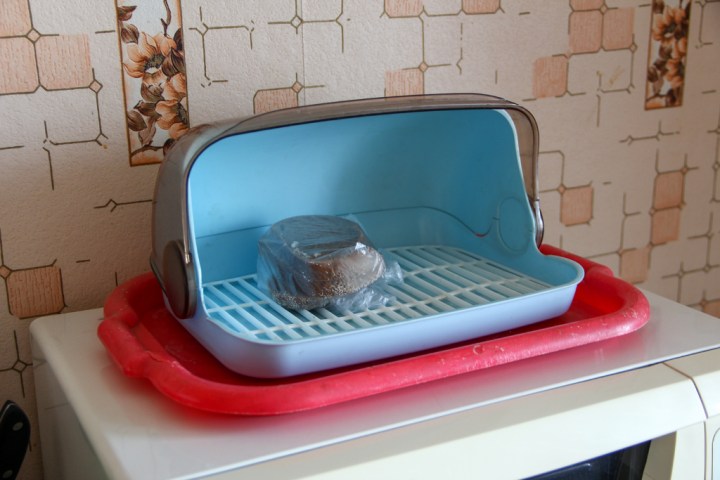 Invest in a bread bin to extend the shelf life of your baked goods. Bread bins block out moisture and light, helping your bread to last longer. Bread bins are visually attractive and can add an element of style to your new pantry.
5. Window Pantries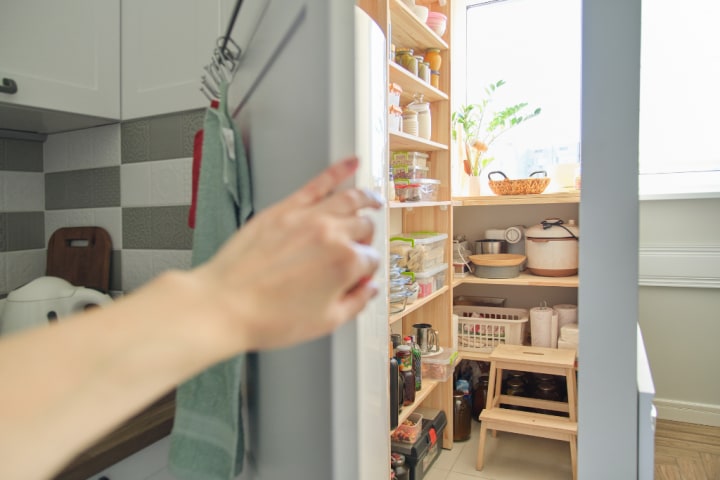 If you plan on putting a bit more elbow grease into your pantry, try setting up your build around a small window in your kitchen if available. This design tip will add more light to your pantry and give it a more contemporary feel. You can also enjoy lower energy consumption without the need for a light fixture in your pantry with this option.
6. Labelled Containers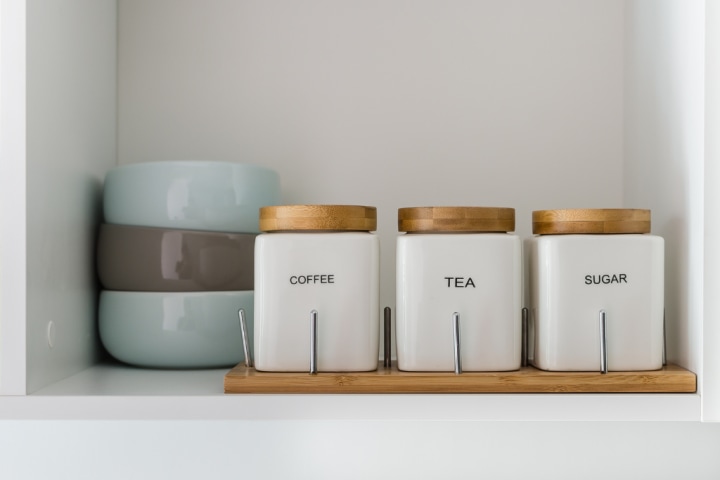 Another low-cost and low-effort design tip to make your pantry thrive is to use labelled containers. Repackaging your pantry items is a great way to organize your goods, and using labels can make it easier to find items in a pinch. We recommend using elegant glass containers with dark paper labels to really make your organized items stand out.
7. Glass Cabinets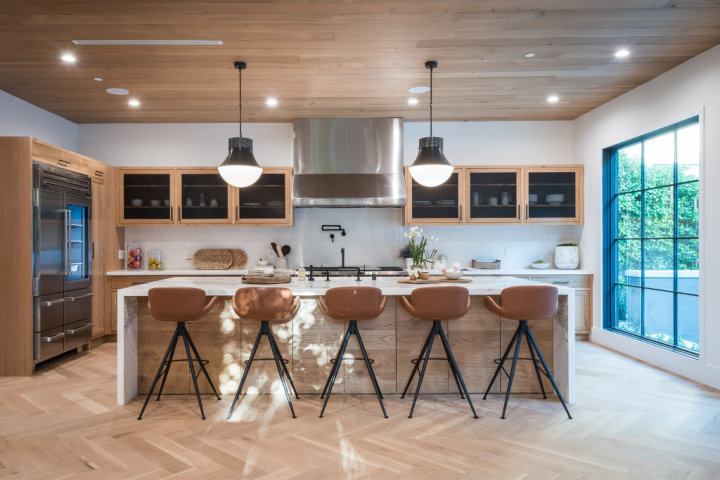 Most pantries and kitchen cabinets are opaque. This is aesthetically pleasing, but another great option for your pantry could be a glass cabinet, which makes it easy to see what's inside and what needs restocking.
8. Extra Shelving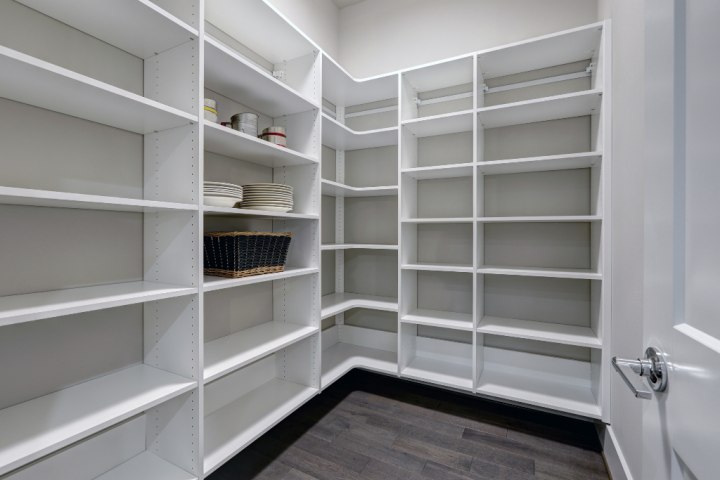 For those who have very basic pantries with lots of space, it may be worth considering extra shelving units. Shelving is relatively easy to install and can add more storage space to your pantry.
9. Rustic Shelving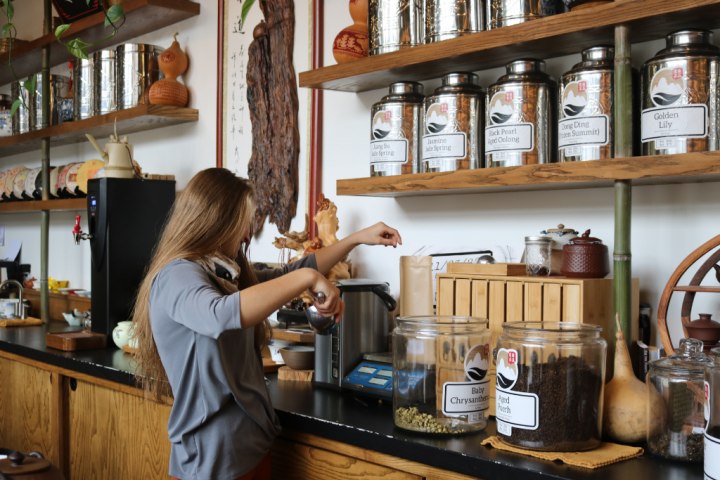 Most pantries are quite plain and boast basic wood finishes or opaque paint. Rustic fixtures and design are coming back into style, and rustic elements can definitely make one's pantry fit cohesively into a rustic-style kitchen. Try using plywood for your shelving and staining the wood with dark, cherry, or birch stains for a country-style look.
10. Dark and Bold Elements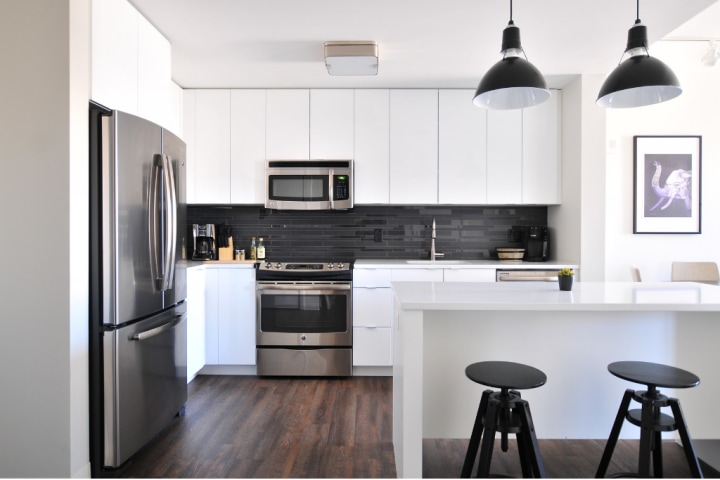 If your aesthetic is a bit more modern, dark and bold pantry elements can really pull your pantry together. Black or white opaque paint for your pantry shelving brings this look to life.
11. Door Hanging Organizers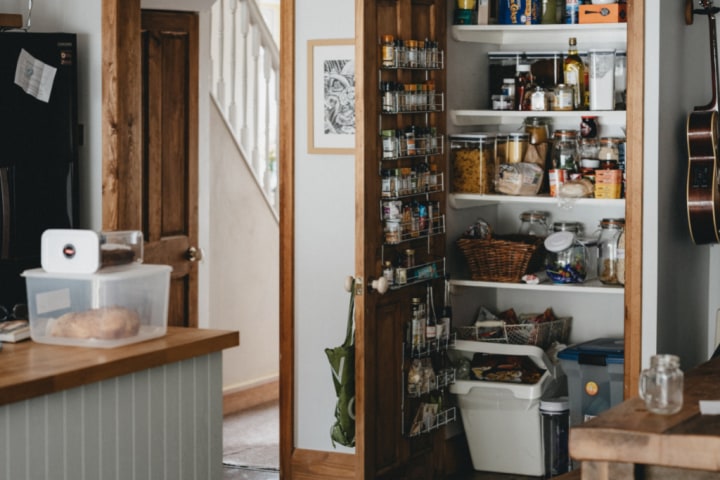 For pantries that are packed with tiny items such as spices or baking goods, a hanging door organizer can help create more open space within the pantry itself. Door hanging organizers simply hook onto the top lip of the door and can hold dozens of items with ease.
12. Open Shelving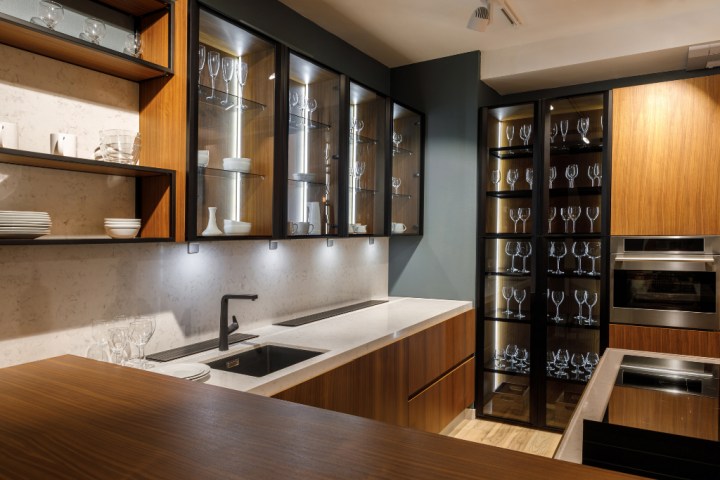 It can be quite frustrating trying to fit large platters into drawers. With open shelving design elements, you can eliminate this issue. For an organization-friendly pantry, we recommend reserving the bottom half of your shelving unit for large, open shelves that can fit cumbersome items.
13. Wine Stations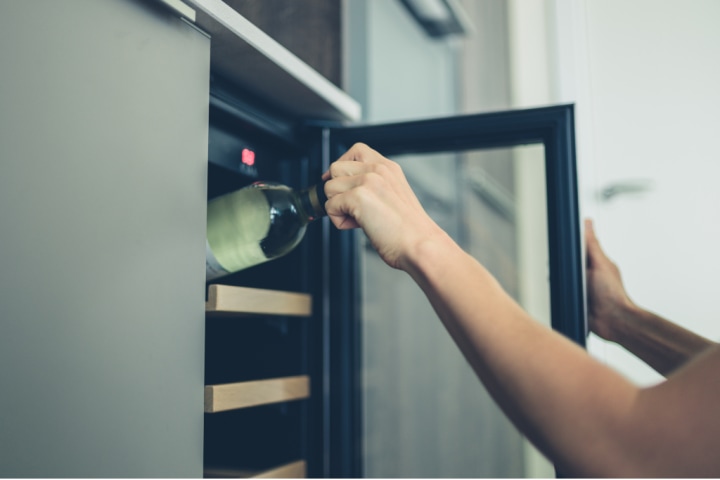 Do you love wine, but do not necessarily want your wine cooler out in the open in your kitchen? Simply install a wine station into your pantry. This will keep your cooler out of sight and will provide easy access when needed.
14. No-Handle Cabinets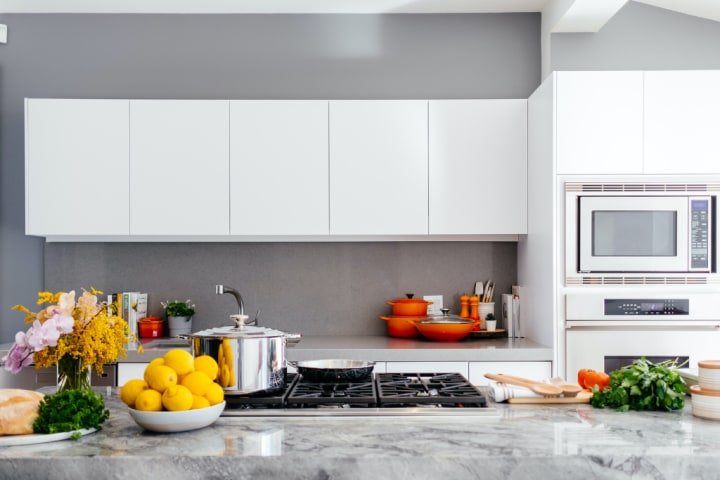 The pantry design trend is not anything new, but it can add a modern look to your pantry. Removing handles from your pantry cabinets and shelving can add a sleek touch to the look of your pantry without any intensive renovation. Typically, no-handle cabinetry and shelving will feature a depression at the bottom of the cabinet doors that one can simply pull on to open the doors. The result is a smooth, clean, and aesthetically-pleasing appearance.
15. Broom Closets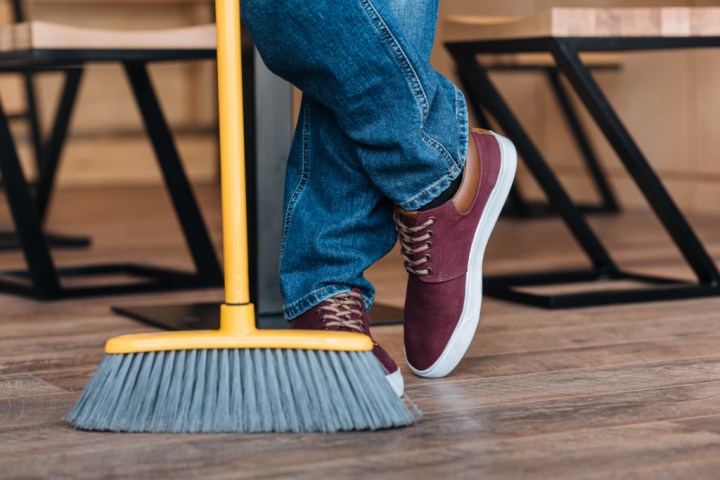 Pantries are certainly not just for food items! One great design tip would be to install a tall and narrow closet feature in the pantry itself to hold items like brooms, mops, buckets, and other cleaning supplies.
Pantry Remodeling Solutions from ShelfGenie
If you are looking for the best custom solutions for your pantry, ShelfGenie is here to help! Our talented team of shelving designers offer a wide range of custom Glide-Out shelves. If you are struggling to reduce clutter in your pantry, our storage solutions can give you more space, less frustration, and better organization ability.
We understand how important it is to have an organized and easy-to-access pantry.
Get a free design consultation
from ShelfGenie and see how we can bring your pantry remodeling ideas to life.