One of the realities of the modern world (particularly in an urban environment) is working out solutions for small space living. We almost all have to make do with just a bit less space than we might ideally like. Here's the good news: there's a certain joy to the efficiency and minimalism that maximizing a small space entails. It can force us to take stock of what really matters and to be more intentional with the items we store around the house (even in the bathroom space).So, for those willing to accept the challenge, we've collected this list of incredibly efficient tips for living with (and loving!) your small space.Let's dive in.
Here are 9 Incredible Solutions for a Small Living Space
1. Declutter Your Living Space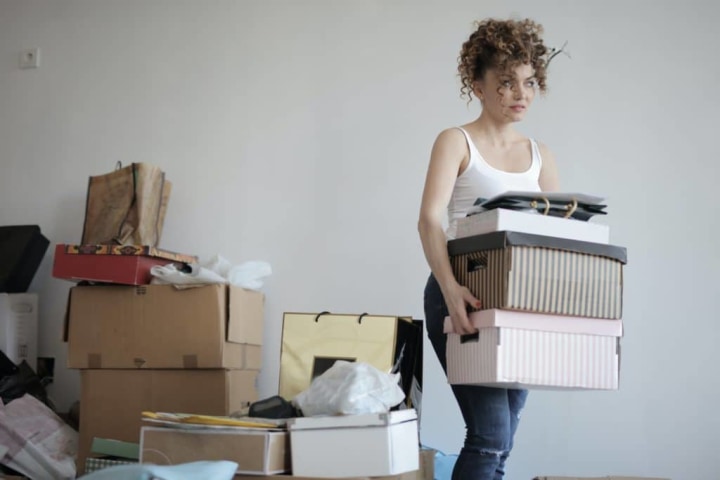 Seems simple...but it isn't always so easy. There's a reason Mari Kondo has blown up over the past few years: people these days just have a tendency to collect odds and ends that we don't
really
need.
Well, nothing clears up space like disposing of the disposable. Remember: just because you're getting rid of it, doesn't mean it has to go in the trash. Donation centers are always looking for more stuff: you can clear out your house AND do good, all at the same time!
2. Lean On Your Walls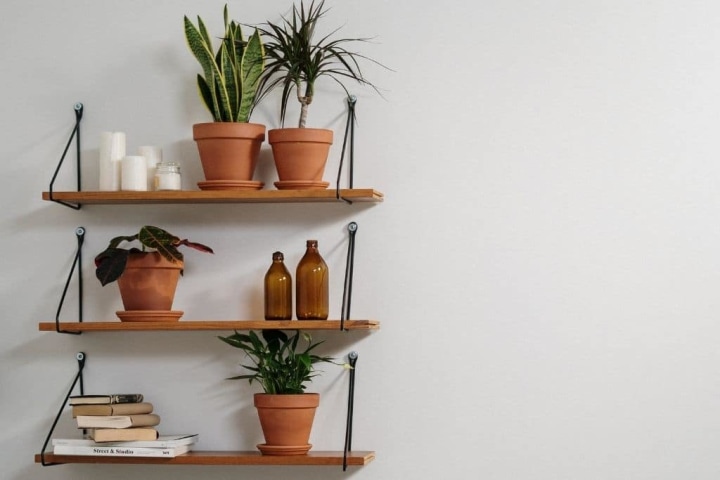 There are only so many built-in cupboards, closets, and cabinets in any home. Eventually, you'll run out—and then what happens? Do we just start stacking the leftover stuff in a pile by the door?
Enter vertical storage. Almost nobody does enough in this area. We all have empty walls that, with just a small investment in shelving (or even a well-placed ladder), could become a great place to store our stuff
and
show off the things we're most proud of.
3. Unleashed the Magic of Mirrors for Small Living Solutions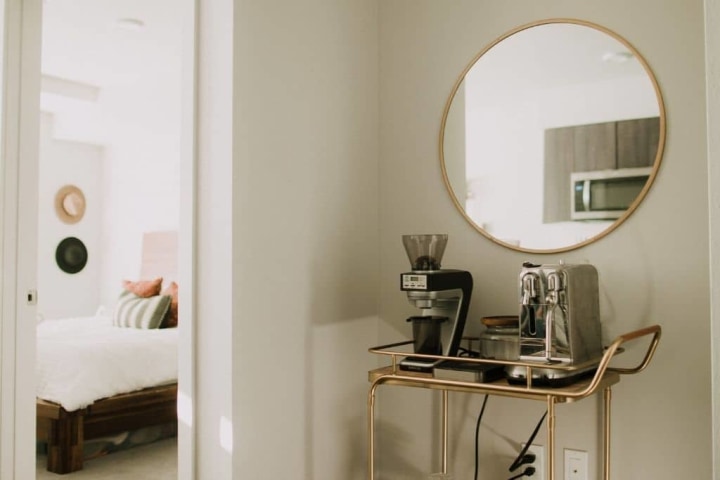 This is a classic bit of advice for a reason: you wouldn't believe what a well-placed mirror can do to open space. It's a trick of the eye (you aren't
technically
saving space) but it's powerful. And the best thing is, you can do this in any part of your home. Kitchen, bathroom, bedroom—mirrors almost always look good.
Finally, for the sake of creativity, don't feel the need to limit yourself simply to mirrors: reflective surfaces of all kinds can do the job.
4. Small Living Space Need Double Duty Furniture as Solutions
When space is at a premium, your favorite furniture will be that which can work double duty. Think a coffee table with a tray underneath, where you can stash any books you'd rather not display. Or a work desk with room for a desktop organizer. There are also lamps with incorporated cabinets or ottomans with hidden compartments. Anything that can provide more storage space is a go.
5. Expand Your Space With Exposed Closets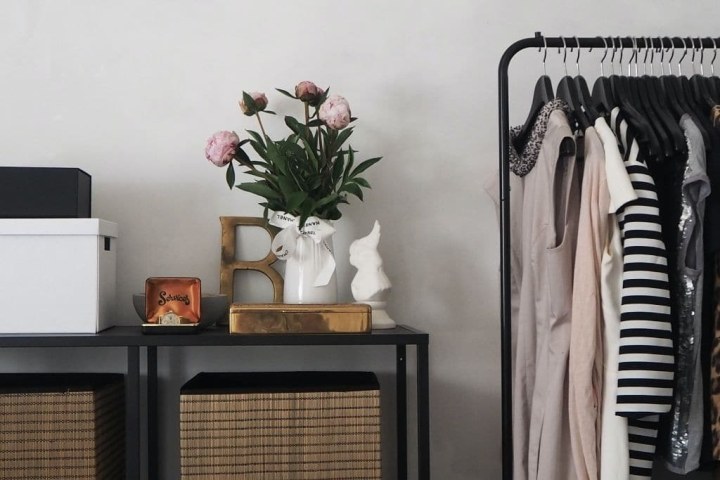 Exposed closets might not immediately come to mind, but they work wonders for helping space feel just a bit bigger. Removing the doors from a closet
technically
saves a little space—but more importantly, it helps open up some flow in the room.
Alternatively, if you're out of closets, try hanging shelves or bins along an open wall to create a kind-of open face closet that also serves as a space to display your nicest possessions.
6. Go Green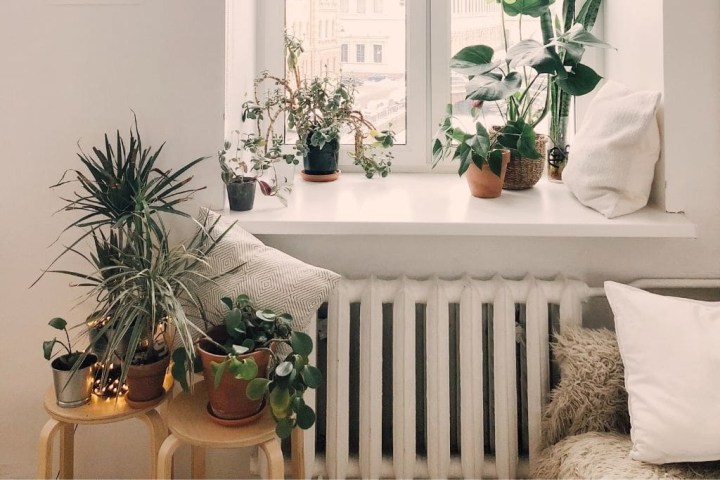 When space is limited and things feel tight, nothing changes a space more than a sprinkle of green. In fact, the phenomenon is well documented scientifically: we have an easier time focusing and calming ourselves down when surrounded by plants. Try livening up your space with a few choice pieces, like a peace lily or snake plant. Although they technically take up space, they help to make it all
feel just a little more joyful.
7. Make a Statement In A Tight Space
This tip is counterintuitive, but leading interior designers will often recommend it for smaller space: try a piece of statement art that draws the eye. The new focal point can distract from limited space. Consider a vintage look to add a design-savvy look, or something bright and bold to really catch the attention of visitors.
8. Consider Under Storage for Small Living Solutions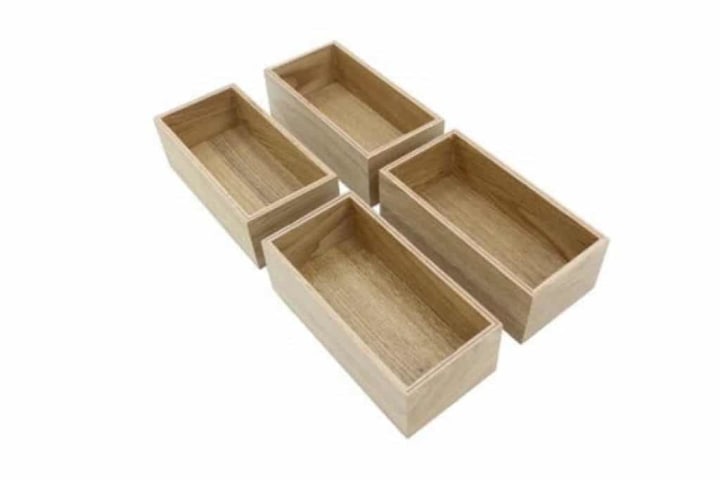 May it be under the couch or under the bed. These are large spaces that, for many of us, simply go unused (unless we're talking about lost legos and collecting dust).
But with the help of storage containers (or soft storage boxes!), you can turn that unused space into your own storage locker. Is it a good place to keep things you use all the time? Of course not, it's too inconvenient. But if you're looking for somewhere to store your Christmas decorations, this tip can be a godsend. Or you might want to consider creating storage in your yard?
9. The Great Disappearing Table (Or Couch, Or Bed, Or…)
This is a trend that's been taking over the past few years, and for good reason: as spaces get smaller, it becomes more and more impractical to have a table taking up half the room all day...when it's only being used for maybe an hour. Think about a ship-style table or desk that folds up against the wall. And of course, the same can apply to beds and couches, or just about any large piece. It's an investment you won't regret.
Don't Settle for Cramped Space
There was a time that a
good home
and a
large home
were synonymous: when the American Dream meant moving to the suburbs. These days,
more and more of us are opting for smaller spaces
with other benefits—and finding a way to make do with the space we have. I hope this list gives you hope for your own space and reminds you of the key in interior decorating:
a little creativity can solve any problem
. Don't let your lack of square footage get you down—a well-equipped little home can be a massive source of joy.
Curious about what a ShelfGenie custom shelving solution may cost?
Download our new and FREE Cost of Custom Glide-Out Shelves brochure
.