Deciding to go with a walk-in vs. reach-in closet can be a tough decision when remodeling your home. There are many important considerations when it comes to choosing the perfect custom closet solution. Both walk-in closets and reach-in closets offer different advantages when it comes to functionality and design. This post will help you determine which one is better suited to your needs.With spring cleaning in full swing, there is no better time to get organized, starting with your closet. Here is everything you need to know about choosing a walk-in closet vs. a built-in closet.
Important Considerations When Choosing a Walk-In vs. Reach-In Closet
When it comes to closets, one size does
not
fit all. Every household has unique needs when it comes to storing clothing and accessories. Here are three important things to consider when renovating or remodeling your closet space:
How much room you have available
Your storage needs
Your budget
These three things will primarily determine whether a walk-in vs a reach-in closet is best for you. We will discuss each of these in more detail, but first, let us go over the difference between a walk-in and a reach-in closet.
What is a Walk-In Closet?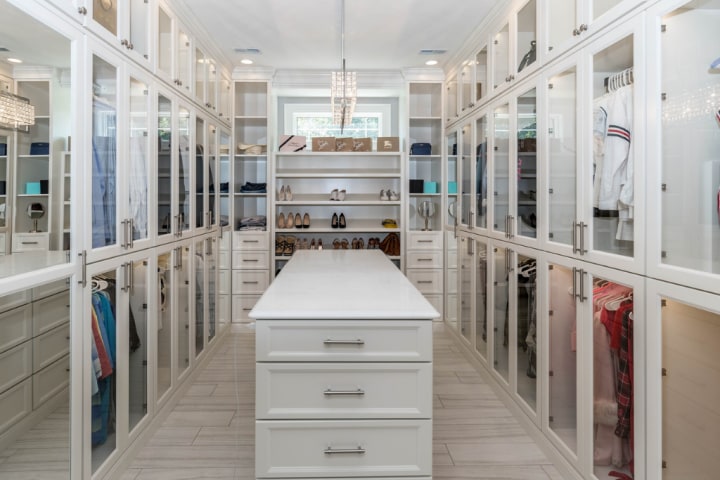 Walk-in closets are exactly as their name suggests; closets that are large enough to walk into. Essentially, walk-in closets are an entire room dedicated to housing your clothing, jewelry, accessories, or any other items that you see fit. They are completely customizable to your personal style and needs. For instance, maybe you want special display cases for your favorite watches or vanity to get ready in. Having a walk-in closet is like having your own private dressing room right beside your bedroom.
What is a Reach-In Closet?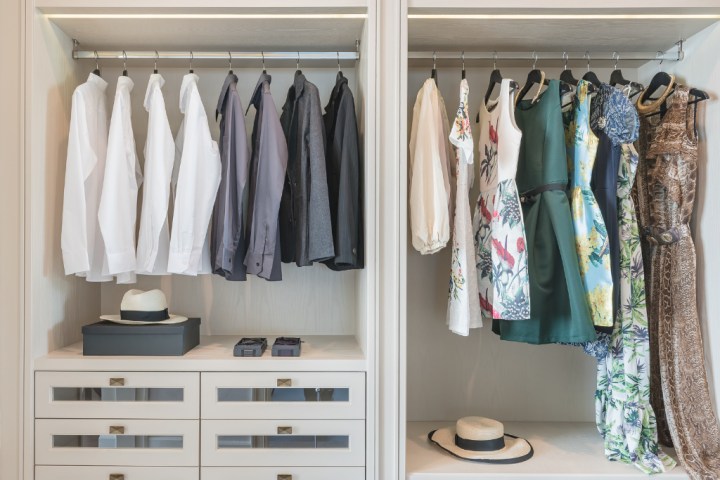 Reach-in closets are designed to provide a simple, yet functional closet when space is limited. Reach-in closets, also known as built-in closets, are typically set into a wall so that they do not take up space in the room. Most reach-in closets can fit a large closet organizer so that you can see exactly where everything is stored and can have easy access to it.
How Much Room Do You Have Available?
Naturally, walk-in closets require a lot more room than reach-in closets. Walk-ins can vary a lot in size, with standard walk-in closets ranging anywhere from 25 to 100+ square feet. With walk-ins, you also have to consider lighting and electrical wiring. On the other hand, reach-in closets are typically about 6 feet long, 8 feet high, and 24 inches deep. Additionally, you can maximize the space with
small living solutions
, like installing hanging organizers, shelving, and sliding drawers.Take note of how much room you have to spare when choosing a walk-in vs. reach-in closet.
What Are Your Storage Needs?
Another thing to consider is how much stuff you need to store in your closet. Reach-in closets are well-suited for one person, but might be a tight fit for two, especially if you both have a lot of clothes. Walk-in closets will not only accommodate an extensive clothing collection but can even provide enough space to store other items, like ironing boards and steamers. Walk-in closets are typically spacious enough to hold more than one person's belongings. If need be, it can even function as a dressing room for the whole family if space is limited in other bedrooms. Many people opt for a walk-in closet because they want to
display
their clothing and accessories, not just store them. If you have an extensive shoe or handbag collection that you want to have on display, a walk-in closet is the way to go.
What is Your Budget?
Your budget is another consideration. To some, shelling out for a walk-in is worth the money; however, others would rather go for a more economical reach-in and put their money towards other home features. Even after considering your space, storage needs, and budget, choosing the best closet for you can still be a tough decision. Here are some pros and cons of selecting a walk-in vs a reach-in closet to help you decide.
Pros and Cons of a Walk-in vs. Reach-in Closet
Walk-In Closet Pros
Walk-in closets definitely have their advantages. Here is a list of the benefits of choosing a walk-in closet:
More room to store clothing and accessories
Lets you display possessions in a visually appealing way
Can be completely customized to suit your needs and personal style
Also functions as a private dressing room
Can easily be shared between two people
Complete control over how you want to organize items in your closet
Walk-In Closet Cons
Walk-in closets have a few drawbacks. Here are some of the downsides of choosing a walk-in closet:
They are more expensive to install
They can take up a lot of space
You need to consider lighting and electrical outlets when building a walk-in closet
Staying organized is a must, or else they will quickly become a mess.
If you're still on the fence about building a walk-in closet, you might want to consider a more practical reach-in closet.
Reach-In Closet Pros
A well-designed reach-in closet can offer several benefits:
Takes up less space and can fit conspicuously into small spaces, like under stairs or along hallways
Less expensive and easier to install
Simple and functional; you can see all your options in one place
Less space means they are easier to keep clean and organized
Great for minimalists or people looking to down-size/declutter their current wardrobe
They allow you to maximize storage in a small space by using closet organizers
Reach-In Closet Cons
As appealing as reach-in closets seem, consider some of their downsides:
Limited space means it's difficult to share one closet between two people
They are not ideal for individuals who need to store a lot of seasonal items
They can easily get overwhelmed with clothes if you don't regularly declutter or donate unworn items
There are limited ways to customize a reach-in closet to fit your style and needs
Walk-in vs. Reach-in Closet: Which One is Right for You?
When choosing the closet that's right for you, it's best to consider the factors you find most important. No matter which you choose, custom storage solutions are an essential part of building a functional closet. ShelfGenie helps you optimize your space by installing custom shelving to enhance the storage capacity of your closet. Please, note that the ShelfGenie custom closets are available at just a few locations. And while our custom shelving solutions are available in all locations, there must already be some sort of cabinets in your closets before we install the shelving.Want to learn more? Call the number on this page now to talk to a consultant.