Wheelchair-accessible kitchen cabinets allow wheelchair users to have as much ease when performing usual tasks in the kitchen as possible. Accessing kitchen cabinets for wheelchair users can seem almost impossible in many kitchens, but everything can be reimagined and redesigned. The Americans with Disabilities Act (ADA) of 1990 prohibits discrimination against individuals with disabilities in all areas of public life, and private life should be just as - if not more - equal! Continue reading to learn more about wheelchair-accessible kitchen cabinets and how they can help you feel worry-free in your own home.
Why Do You Need Accessibility?
An average kitchen countertop is 36 inches high. While this is still "accessible" for someone using a wheelchair, it is inconvenient. Kitchen cabinets can be above, below, or in line with countertops.
Cabinets fitted above the countertop can be difficult to reach for people in wheelchairs. We may need to rethink what is "standard" if we must create ADA-accessible furniture, fixtures, and equipment in the kitchen appropriate for the height and reach of those in wheelchairs. Accessible kitchen cabinets can save wheelchair users from much inconvenience.
For more general design guidance, please reference the 2010 ADA standards, and see tips below specifically for wheelchair-accessible kitchen cabinets.
Types of Wheelchair Accessible Kitchen Cabinets
Although everything else is quite reachable, kitchen cabinets are often positioned 16-20" above countertops reaching up to the ceiling. Storage positioned at standing height saves space, however, being in a wheelchair makes these cupboards inaccessible.
The most popular way of making these cabinets accessible is by installing electric power cabinets. Depending on the user's needs, the cabinets can go up or down. It'd only take the click of a button to bring down the kitchen cabinet to an easily reachable height. Once done, the user can raise it back to its original position.
However, there is a problem: Electric-powered cabinets are often extremely expensive.
The less expensive alternative is installing manually-maneuvered shelves within the cabinets. The user can lower or raise the cabinet in the same way based on their needs. This alternative isn't exactly perfect either, since it is more tedious to operate. More moving parts often means more possibilities for constant wear and tear with resulting maintenance costs.
Install Glide Out Shelves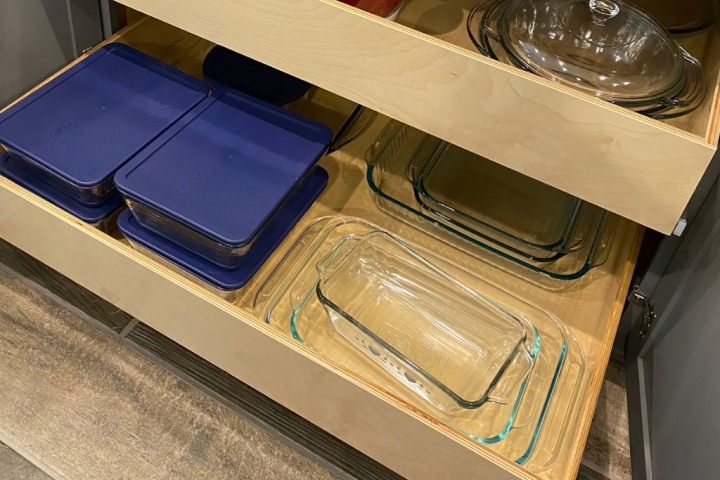 Glide-out shelves are perfect for those hard-to-reach sections in the back of your cabinets. Installing shelves that easily pull out allows for the entire shelf to be utilized rather than only the front sections. It also relieves strain placed on the body when required to stretch and reach in deeper cabinets.
Adjustable shelves are an additional consideration when redesigning your kitchen cabinets for the changing needs of those with disabilities.
Install Lazy Susan Cabinet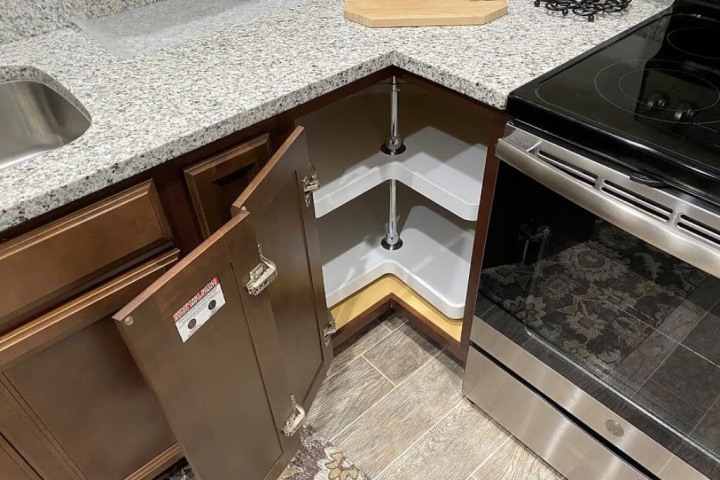 For corner cabinets that hold smaller items, lazy susan is a perfect solution. Its rounded shelves revolve so that each item has a chance to be front and center. Accessibility is a breeze with this wheelchair-accessible kitchen cabinet.
Use Non-Slip Liners
It's also a good idea to fit the kitchen with non-slip cabinet liners. This way, users can easily retrieve items reducing the possibility of dropping or breaking anything.
Use Appropriate Hardware
The pulling mechanism on cabinets can play a significant role in improving accessibility. Interior designers advise that cabinets have loops or bar handles instead of knobs or pulls which require greater grip strength.
It may be an even better idea to opt for touch-release doors and drawers. Installing this system can often be expensive but offers maximum accessibility and ease of use.
Top or bottom-hinged doors are additional hardware solutions when redesigning your kitchen cabinets to be wheelchair accessible.
Other Solutions To Make Your Kitchen More Accessible
There are other ways to make kitchens more usable for wheelchair users. Let us briefly examine some of them.
Optimize The Use Of Existing Countertops
If existing countertops are already at an appropriate height for wheelchair users, you will save the most here on renovations. If unfortunately necessary, you may have to remove the cabinets below to reinstall the countertops to an appropriate height.
Keep Utensils & Spices In Easy Assess
Design experts suggest keeping everyday items nearby. Even if you have an electronic kitchen cabinet, bringing down the cabinet and putting it back every time you want to cook can be stressful. Instead, the best practice is to store commonly used spices and utensils in easily reachable places. If the easiest location is on the countertop, space organization will be key!
Conclusion
It's essential to give persons with disabilities the most appropriate access to everyday facilities to ensure comfortable living in the home. For many, this change begins in the kitchen, which usually means installing custom shelving solutions.
You can DIY kitchen cabinets and drawers, but the best solution would be seeking professional help to ensure it is done right. At ShelfGenie, we help with ADA kitchen cabinets for wheelchair users. The goal is to accommodate your loved ones with specific disabilities safely. With ShelfGenie, your kitchen can be made to the prescribed layout and positioning specifications down to the inch to ensure easy access.
Contact us today and get a quote for custom shelving/storage solutions.