Where to put a microwave in the kitchen is an important decision. You must be intentional instead of squeezing it somewhere or moving things around.
A microwave is an essential appliance for any kitchen. It helps us save time, and most importantly make the best use of available food. But,a microwave is not exactly a small item.
Microwaves are slightly bulky and can take up a lot of space. They need a steady surface to hold them so they do not fall, and they need adequate space around them for ventilation. When you have a small space, finding a good place to fit your microwave for a safe and organized kitchen can be a challenge.
Why Where You Put Your Microwave Matters
Apart from stability, a microwave needs to be in a place where it does not get in your way as you move around the kitchen. If it does get in the way, not even a stable surface will keep it from crashing to the floor. Especially in a smaller kitchen, you will need to pay extra attention to this.
A microwave is also a potentially harmful appliance if used poorly. If you have younger children, it would be best to keep it out of reach. At the same time, if you have difficulty reaching higher surfaces, you would need to put it on a surface that you can reach.
Everyone's situation is different, so there is not a one size fits all solution. With that in mind, here are several different ideas on where you can keep your microwave in a kitchen with a small countertop:
Keeping your microwave within an already existing compartment is a great option if you have a small countertop. It not only helps you get a neater-looking counter, but also allows you to use empty storage units in your kitchen. Here are a few ways you can do this:
1. Below the Counter
You can put the microwave in a large cabinet under the counter, or replace a drawer with a microwave cabinet. If you are planning on renovating, then this will be even easier because you can build in a microwave-ready base cabinet.
This easy accessibility is dangerous for children, so it might not be the best option if you have kids.
2. In a Spare Cabinet
Do you have a cabinet you barely use? Unless you rarely use it because of inaccessibility, empty cabinets are a great place to keep your microwave. If it has a shelf dividing it, you can get it removed by a professional, who can also wire it in for you.
One of the best things about keeping your microwave in a cabinet is that it allows you to keep it out of sight when not in use.
3. In the Pantry
Does your pantry have a safe, sturdy shelf large enough to hold a microwave? If it does then that is another option! Of course, the pantry would also need to have adequate plugs and be conveniently located so that it is easy to carry food to and from the pantry.
4. In Your Island
Kitchen islands are the underrated storage masters of the kitchen. They provide an alternative surface in your kitchen while also providing some space below that you can use for storage. If it does not come with any already, you can add a few drawers and cabinets under your island.
Installed Above the Counter
We can take hiding the microwave in the cabinet and pantry one step further by permanently installing it with existing cabinets or on its own! This option is advantageous because you can adjust the microwave's level to your preference. Although most of these options are noticeably more expensive, they offer unique advantages in their own right that may perfectly suit your needs.
5. Over the Range
Placing your microwave 'over the range' means that you have installed it above the countertop or over a range. They are also called built-in microwaves. Over the range microwaves also provide air circulation, kitchen venting, and overhead lighting in addition to saving space. Although over the range microwaves may be a little expensive to install, their multiple benefits add to their value, making them worth every penny.
6. Integrated with the Cabinetry
Microwaves can be integrated with the cabinets of your home to save on counter space. This can be over the range or in a different section of the overhead cabinets. This idea is better if you can customize the cabinets, and put them at a level that suits your height. If the cabinets are already installed, they may not be at the right height, requiring additional renovations.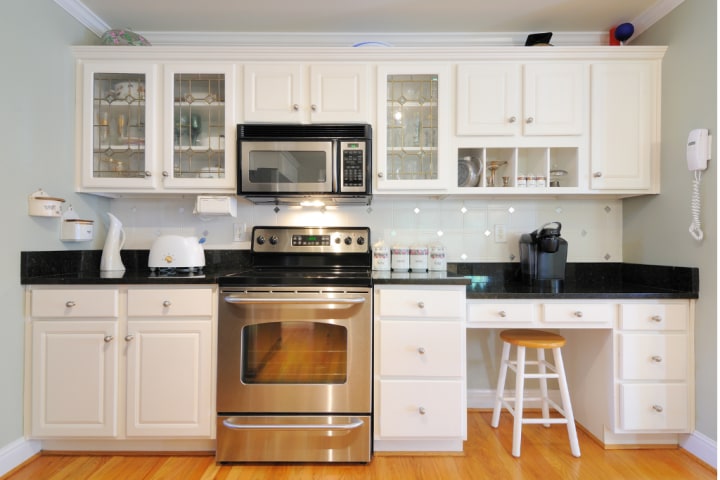 7. Combined with a Wall Oven
Again, this option is best for homeowners who are building their kitchens from scratch. It can also work if you do not mind a little renovation.
However, you can also simply buy the microwave-oven combo and have it installed. You could also use a kit prime to put your microwave above the wall oven.
On Its Own
No cabinets or extra wall space? How about getting a dedicated surface for your microwave?
8. On Its Stand
You can purchase a specially designed microwave stand, or get a piece of furniture strong enough to hold on to it. This could be a cabinet chest that you can put beside your counter and that can act as additional storage. This could also be a glide-out shelf that can pull out in order to clean above and behind the microwave.
9. On Your Island
Yes, the island is that multipurpose queen of the kitchen. You can keep your microwave both in and on your kitchen island. Most people believe that the island should be reserved for serving food, but the microwave can also find a home there.
10. In the Corner of the Counter
Is your counter L-shaped? If so, then you probably have a counter corner that is barely used. Whether it is because of the awkward shape or, apparent distance from everything else, such corners are barely used efficiently. They are therefore perfect places to keep your microwave.
11. On Top of The Fridge
There are a lot of myths and misconceptions about microwaves, one of them being that they should not be put on top of refrigerators. This is untrue; you can safely keep your microwave above the refrigerator and save on space!
Organize your Kitchen with ShelveGenie
Having a smaller countertop should not hinder you from having any appliance you would like. Depending on your needs and the options provided above, there are several solutions you can try! The safety of you and others in the house does not have to be compromised either. For more ideas and consultation for any situations not covered in this guide, contact us today.