Small kitchen cabinet ideas can breathe new life into a stuffy, tiny space. Small kitchens can be a challenge. Not only do they limit your entertaining space, but they make it a constant challenge to find enough storage room for supplies and cooking equipment.
If you're searching for small kitchen design ideas, one area that can make a big difference is your cabinet designs. Cabinets provide the best opportunity for storage and style. And with increasingly ingenious cabinet designs to choose from, you'll finally be able to stock your shelves stress-free without wondering where you can put everything.
Small Kitchen Cabinet Ideas for Every Tiny Space
1. Create Visual Interest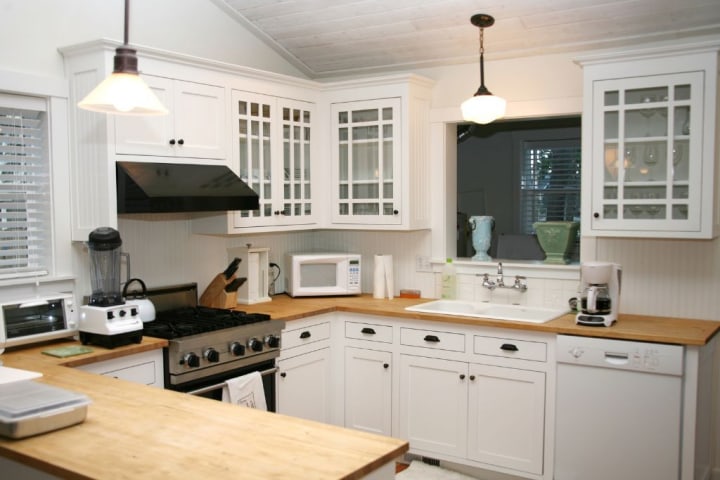 Small kitchens can feel more special and deliberate with elegant treatments added to their cabinets. Mullion, the trimwork added to glass-front cabinet doors, can draw the eye up and around. This provides you with a more open feel, adding visual interest to a small kitchen.
2. Find Space for an Island
Anywhere you can add in some seating will help make your kitchen more useful. Although you may not be able to take advantage of the "double island" trend, most islands can handle a stool or two next to them.
Breakfast nooks and kitchen counter bars are both popular small kitchen cabinet ideas because they add additional function to the space. If your kitchen is too small for an island, a fold-out table can open up to offer added dining space only when in use.
3. Get Creative with Your Small Kitchen Cabinet Design
What you lack in square footage, you can make up for with strategic storage solutions. For far less than the cost of expanding a kitchen space, innovative cabinet solutions can maximize even the smallest kitchen.
Lazy Susans for corner dish storage, pull-out cabinets for narrow spaces, and drawers-within-drawers can effortlessly organize your food, supplies, and dining ware.
4. Find Unique Places for More Cabinets
Look up for opportunities to add in overhead cabinets when searching for small kitchen cabinet ideas. That unused space could lead to multiple possibilities for additional storage.
Now, if you're thinking that overhead storage is too high to be used, reconsider. There are now many levered shelf options that bring those hard-to-reach shelves down for easier access.
5. Extend Your Kitchen Cabinet Design Ideas
Your kitchen doesn't need to stop where your appliances end. Borrow room from your living or dining room, and add a stand-alone kitchen island. A slim kitchen island can give you room for many storage opportunities.
These include slide out drawers for large pots, pan shelves, trash bin pull-outs, and a wine rack drawer, not to mention all the prep and entertaining space you acquire.
Stylish Small Kitchen Design Ideas
6. Streamline Your Compact Kitchen Design
Create a streamlined look with ultra-modern cabinets that make a statement. Choosing kitchen cabinets in a bold color can make the area look bigger. Trends have evolved from a focus on just blue.
7. The Ceiling is the Limit for Small Kitchen Cabinet Ideas
With a small kitchen layout, every square inch counts. That's why floor to ceiling kitchen cabinets can be so helpful. What is typically wasted space that just collects dust can now be useful. Store all your fine china or seasonal items out of the way so you have more space to stock your other shelves.
Not only do these modern styles of kitchen cabinets provide more storage space, but they give your kitchen a uniform look that makes any wall height look taller. With high enough ceilings, you may have the option to double-up your upper kitchen cabinets.
8. Squeeze in Cabinets Everywhere You Can
Compact kitchen designs call for extreme measures when it comes to small kitchen cabinet ideas. Ultra-slim cabinets do exist. Although they might not hold a lot, they will add much-needed storage to what would otherwise be wasted space. A super-slim tall cabinet could hold aprons and brooms, while a slightly bigger cabinet could solve your surplus mug storage dilemma.
Even more useful are tall pull-out pantries that can slide into small spaces next to the refrigerator. This makes for more efficient food prep with all your ingredients in one place.
9. Small Kitchen Cabinet Ideas that Fool the Eye
Keep the eye busy, and our vision will perceive miles of design in a small space. A small plain white kitchen can feel boring. All you notice is how small it is. But among small kitchen design ideas, this is one of the most clever.
Add kitchen cabinets in bright, bold colors like brilliant blue, yellow, or orange, and complement your cabinets with a highly patterned flooring. Under-the-cabinet lighting will enhance the look. And when in doubt, add in a mirror to increase the feeling of space. This is a trick often used in living rooms and bathrooms to make a room appear larger, but few take advantage of the mirror effect in the kitchen.
10. Personalize Your Small Kitchen Cabinet Ideas
You spend a lot of time in your kitchen, so why not design it to fit your specific needs? If you're a baker, you'll want bigger drawers for bowls and surplus dry goods. If you love your wine collection, perhaps a built-in wine storage feature is a priority.
Start any compact kitchen design strategy by thinking about your needs and what you want most in your kitchen. You can then select kitchen cabinets and shelving that suit those needs. There are even tailor-made cookbook organizing shelves for the cookbook lover.
11. Shelve Your Small Kitchen Cabinet Design
Small kitchen cabinet designs can work decorative shelving elements into the look. This visual variety breaks up the design, making the kitchen more interesting to be in. It also provides flexible storage options.
This is an easy install, especially if you have empty walls needing to be filled. This is the place to show off all of your prettiest pots and serving plates.
Small Kitchen Cabinet Designs to Maximize Storage
12. Assess Your Appliance Needs
When assessing the priorities in your small kitchen, consider what appliances you need and what you don't use. If you don't have a big family, maybe a dishwasher isn't as essential as the cabinet space that area can provide.
Likewise, sometimes a full-size stove with a large oven isn't what can serve your small kitchen the most. If you don't cook Thanksgiving turkeys on the regular, it is worth considering a built-in convection oven that can serve the needs of a small family.
13. Tackle Large Pots, Pans, and Lid Storage
One of the elements of a kitchen that take up the most space are pots and pans, along with their assorted lids. Having a drawer that is designed just for these types of pieces can make the cooking experience much more efficient. Look for clever lid storage options such as bars that attach to doors for them to slip into, or add a bar with hooks to an empty wall for easy access.
Large pans and heavy pots should be stored low to the ground so you're picking them up rather than grabbing them from over your head. A deep drawer can make them particularly accessible.
14. Corners Offer New Ways to Enhance a Small Kitchen Cabinet Design
Far too often, people will overlook the many corners of their small kitchen. If you include these in the space you utilize in your small kitchen, you can easily add some cabinet room in its nooks. This one also expands once it is opened, adding even more storage space for your kitchen supplies.
15. Don't Forget Under the Stove Storage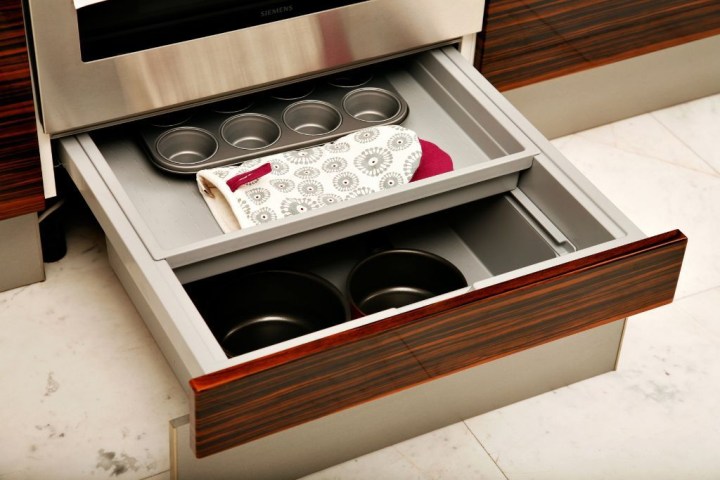 Let's be honest; few of us fully utilize the under the stove storage space. There are ways to make it more useful. Adding in a multifunctional drawer system can give a space for all the baking pans that are generally a challenge to store. Rather than trying to sift through pans as they slip and slide, multiple drawers offer the convenience of just browsing through the contents.
16. Go Deep On Small Kitchen Design Ideas
Sometimes one is better than two. Look at your storage needs. Would one larger pull-out drawer be more helpful than thinner shelves or cabinet doors? If so, it may be worth reconfiguring your small kitchen cabinet layout to include this type of cabinetry.
We all have those cabinets that are hard to access, and we forget what's inside. WIth a small kitchen design, you don't want to waste any space, so opt for a more useful design like a slide-out drawer.
Make Your Small Kitchen Into a Dream Kitchen
Small kitchen cabinet ideas can be a real challenge unless you know all of the options at your disposal. If you want to fully maximize your small kitchen space, reach out to schedule a free consultation with our design experts. They are masters of creating clever storage solutions and know the tricks for making the most of your small kitchen space.