Living in a tiny house seems like a fantastic idea until you are in need of tiny house storage ideas. Tiny houses are the ultimate in living minimally, but that does not mean we have to get rid of everything we love simply to exist in a smaller space.
If you are moving into a tiny house, or you already live in one, you are likely constantly on the hunt for tiny house storage hacks that will make your life a little easier while you make the best of your space. Tiny houses are environmentally friendly and super cost-effective. In general, smaller spaces are much easier to customize, but they come with challenges just the same.
Creating Storage in Your Tiny House
Living in a tiny house is an amazing experience. If this is the path you have chosen, chances are you have planned it out for quite some time. Living in a tiny house means giving up quite a bit of space, and because of that, personal belongings often go with it.
However, there are ways to live in a tiny home and keep everything that has meaning to your life. Living in such a small home means planning out storage from the get-go. Even if you spent hours planning your storage situation, you might find yourself short on space anyway.
Existing in natural light is not only essential to your health but in a tiny living space, building shelves and cubbies around a small window create the perfect place to keep plants. If you are in the process of building your tiny home, or you are looking for ways to increase shelf space, always consider adding a window. Bay or bow windows allow the added functionality of seating and/or drawer space to a tiny home.
These storage solutions are certain to work in your tiny home without much (or any) remodeling.
Shelving Options
Combine Structural Support with Shelving
The beams that support your tiny home can be turned into shelving, as long as they are installed and facing the correct way. When you are in the process of planning out your tiny home, think about how you can incorporate structural support and shelving. Also, don't hesitate to install shelving near the ceiling, even if the home is already structurally reinforced.
Open Shelving
Open shelves create a sense of openness in a tiny space. Regardless of where you hang them (you should install them where you will use them the most) shelves that are completely open on each side will help your space feel bigger while neatly storing your belongings.
Install Built-In Shelving
When living in a small space, shelves sometimes can make it feel even smaller. Instead of purchasing shelving units that take up floor space, consider having built-in shelving professionally installed. You will be able to create a storage space you truly love while ensuring that it will not make your tiny home feel too tiny!
Utilize all Sides of Your Shelves
If you have installed floating shelves, you will want to make it possible for you to use both sides. For example, if you put them in the kitchen, make room to place cups or dishes on top, while you hang wine glasses or measuring cups from the bottom. In a tiny home, tiny house organization ideas should always serve more than one purpose.
High Shelves
No matter what type of shelving you choose, whether it be open or closed, you will want to ensure that it sits as high up as possible. Of course, you will have lower shelving to store the things you need access to daily, but as for the things you use occasionally (certain appliances, winter boots) you will need an overhead storage solution. This keeps the things you do not always need up and away, eliminating clutter.
Furniture Options
Bench Storage
Most tiny homes have a small office or study space. Instead of using a chair behind your desk, consider a bench. Benches come in various shapes and sizes and they look stylish and modern while remaining vintage. Depending on what type of bench you purchase, you will have access to storage underneath or inside of it.
Modular Furniture
There are many retail companies today that focus on offering furniture solutions for people who live in tiny houses. Modular furniture is one of the best options, as you can move it as needed. From tiny couches to modular cubes that act as whatever you need, there is much to choose from. In a tiny house, modular, moveable furniture just makes sense.
Storage Under the Couch
There are plenty of different ways to pull off under the couch storage in your tiny home. One of the best ways is to construct the couch so the cushions sit on the top surface of a row of drawers or pull-out bins. This way, you can store blankets, slippers, movies, and any other media devices you might like. You can make your couch as long or as short as you would like, and your storage will reflect that
Fold-Down Beds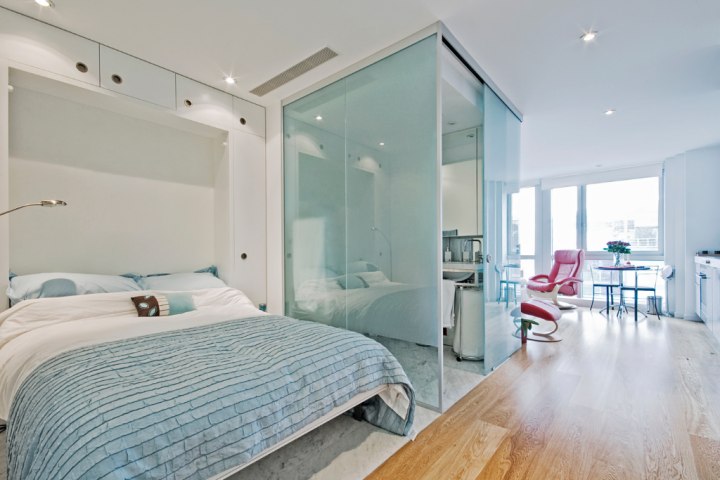 A bed that folds down is essential to tiny home living. Whether you pull it out of the wall or turn the benches of your kitchen table into a bed, you have to ensure that your bed is out of the way when you are not sleeping or lounging. In a tiny home, everything you do is in one central area, and it is unlikely you want to trip over your bed consistently during the day.
Cabinets & Drawers
Roll Out Cabinets
One of the greatest tiny home space saving ideas ever might just be roll-out cabinets. These cabinets on wheels fit snugly under a countertop or desk, and they only roll out when you need them! They create ample storage space and they are completely out of the way.
Stair Drawers
Yes, you read that right. Installing drawers in the space under your staircase or installing drawers under each step is imperative and a cornerstone of tiny house storage. You can keep whatever makes sense for you in these drawers, but they free up a ton of space, depending on the size of your staircase! These drawers do not have to be anything fancy or intricate, and can simply blend in with your staircase until you pull them out.
Blank Walls Should be Cabinets
There is no room for a blank wall in a tiny house. Instead of blank walls, try cabinets instead. Now, this is a good step to take during the planning process, but it does not always work out that way. So, if you have walls where there should be cabinets, you might want to consider a professional remodel or design consultation to see what is possible.
Hanging Storage in the Kitchen
You should always opt for hanging storage in the kitchen. Since cupboard space will likely be limited, you will want to hang things like pots, pans, spoons, and measuring cups. Hanging storage is crucial in your tiny home kitchen.
Creating Successful Storage in Your Tiny Home
There are so many clever ways to create storage in a tiny home, but you do have to get innovative and be open to ideas. The experts at ShelfGenie are experienced in storage solutions and we would love to help you regarding the design for your tiny home.
Contact us today, or use our website to book your easy, free consultation now! We can't wait to work with you!